This weekly post comes from Jen at
Teach Mentor Texts
and Kellee and Ricki at
Unleashing Readers
. It's a great source to find new books to use with your students.
Spring Break reading was good :)
Here are the ones that really stood out. I reviewed
everything on Goodreads. Check these books out:
Picture Books

Orion and the Dark by Emma Yarlett
5/5 stars
I talked about this book briefly after ALA.
I'm so grateful to Jen Vincent for pointing this book out to me!
Being scared of the dark is something many young children face. Having an illogical fear of something is a rite of passage for young children. In this book, Orion has many fears, but the big one, is being afraid of the dark. Until the Dark comes to visit. Dark reminds me a bit of
Beetle - a kind, old soul that has a heart of a giant.
I think I said "awwww" a couple of times as I read this gem. Make sure you find a copy of this book. Maybe like me, it will find its way onto your bookshelf.
You Nest Here With Me by Jane Yolen and Heidi E. Y. Stemple
4/5 stars
Mother-daughter team have created a wonderful bedtime story - visions of parents and children snuggling up to read this story come in my head.
But then the teacher side of me sees how this book is teaching its young readers about nesting habits of birds.
This lovely fiction story has wonderful end notes, giving us additional information about each bird, their feathers, eggs, nests and other interesting facts.
And, oh yes, Melissa Sweet is the illustrator. Icing on the cake.

My Pen by Christopher Myers
4/5 stars
A pen is a tool that lets our imagination come to life.
A great story that would leave much to talk about and write about and draw about. I think this story has a place with older students. I think they will understand it on a different level. But young students may love where the pen takes them in the story. What I love about picture books is they don't have an age limit stuck to them. They are not just for our primary students. So many more can enjoy them.
Meet the Dullards by Sara Pennypacker
4/5 stars
Need to teach sarcasm to students? This is a perfect tongue-in-cheek book that will get them laughing. A family that finds staring at paint fun? Mr. and Mrs. Dullard are trying their hardest to keep their young children dull. But it's hard when a neighbor welcomes them to their new home with... chunky applesauce cake!! Mr. Dullard even has to ask her to "Please don't use exclamation marks in front of our children."
Young Adult
Vanishing Girls by Lauren Oliver
4/5 stars
I like Oliver's books, but... they really make me nervous for my daughter to become a teen! Surely not all teens drink, do drugs, have sex, sneak out, and be mean to everyone, right?????
This one was good too. Good twist. But if you're going to read this book, I highly recommend reading it slowly. Or else you're going to want to go back and reread everything to find what you missed.
Graphic Novels
Amulet #1: The Storekeeper by Kazu Kibuishi
5/5 stars
I've had this one for awhile, just haven't gotten around to it. I cannot believe how popular these books have been this year. Very thankful for what this series has done.
This was on my #mustreadin2015 list. Check it off!
Transitional Chapter Books
Lulu's Mysterious Mission by Judith Viorst
5/5 stars
I love Lulu - she's a spunky and a not-so-perfect character. This third installment is probably my favorite. She's funnier, more clever, and has even more schemes. I love how Viorst turns and talks to the reader. This book makes a beautiful read-aloud - kids will laugh and since it's a series, there's more to read!
Adult Reads
Yellow Crocus by Laila Ibrahim
4/5 stars
I really enjoyed this book. If you liked The Help, I would recommend this one. It's a great story about a wet nurse and her charge, a young plantation debutante. It takes place during the time of the Underground Railroad. The story was gripping, I didn't want to put it down. But... the writing was not so good. Debut author, but you would think the editing would have found some of the holes - week transitions, confusing at times, hard to sometimes follow who was telling the story, parts that needed to be developed. But, even with all of that, it was a really good story! It's a quick read. Highly recommended.
Currently Reading

The Alex Crow by Andrew Smith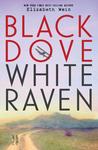 Black Dove White Raven by Elizabeth Wein
On-Deck
A Dog Called Homeless by Sarah Lean
Roller Girl by Victoria Jamieson
Echo by Pam Munoz Ryan