All journeys have a starting place.
This is a weekly place to find books and tools
that you may use with readers at the start of their reading journey.
Join in the conversation at #road2reading.
Happy Halloween :)
I can't believe we're inching closer to the end of the year. Cybils nominations have already closed for the year and the Nerdy Book Club Award nominations will be here very soon. As I look back at past winners, some of the same authors and series are named every year. And while those winners are fantastic, there are some other great books out there. Before we get to the end of the year, take some time and familiarize yourself with some other fantastic reads. This week I'll focus on some great reads for early chapter books you may want to think about for upcoming awards!
the Rabbit and Robot books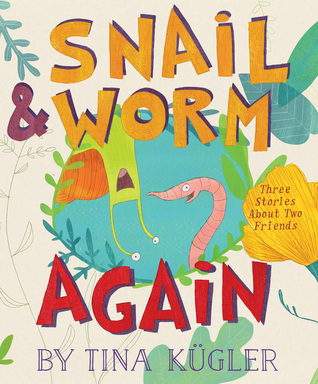 Snail and Worm Again
If you enjoy the humor in Rabbit and Robot books, then you'll definitely appreciate the wacky humor of Snail and Worm. All of these creatures, and err, machines, see the world around them with a slightly different perspective, but it's one that will always make you laugh!
the Tales From Deckawoo Drive series
The Case of the Poached Egg
One of my favorite things about Kate DiCamillo's books is her use of vocabulary. She picks the perfect words to compliment the plot of the story. Newman's books are just like that - the cleverly placed puns and jokes make up for a delightful read!
the Princess in Black series
by Shannon Hale and Dean Hale
the King and Kayla series
The Princess in Black is always up for new adventures just like King and his owner, Kayla! Their adventures are mysteries and lucky for us, King always uses his nose to sniff out some extra special fun as they go about looking for clues.
the Charlie and Mouse series
Realistic fiction with an extra dose of heart mixed in - readers will fall in love with these brothers and their family. It's just a heartwarming series that is reminiscent of Frog and Toad and Henry and Mudge.
I hope you found some new books to read, or some new books to nominate this year! I'm looking forward to seeing what your 2017 favorites were at the end of the year.
Want to talk about books for readers who are on the #road2reading? Link up here!