It's a great source to find new books to use with your students.
Reading in general got away from me last weekend. I really didn't have much to update you on and it was a crazy weekend. Took last Monday off, book binged this weekend and now have more to share!
Be sure to check out what did go up on the blog with the following links!
Last Two Weeks' Adventures
Looking for some books to teach theme? Look no further than here.
Thinking about passion and how that helps you work harder at something! Picture book biographies that exemplify this here.
A fantastic new series from Candlewick Press - SPARKS - transitional chapter books for readers on the #road2reading!
Check out these upcoming releases for those on the #road2reading!
This nonfiction picture book series is a perfect addition for transitional chapter book readers.
Little Fox in the Forest is my new favorite wordless PB! Check out these ideas for using it has a mentor text!
Picture Books
What Will Grow? by Jennifer Ward
4/5 stars
Great book to add to your growing/plants/life cycles units. I know our second grade studies plants and while this book is geared to a younger crowd, there is still a lot that can be used to cover the second grade NGSS. Each layout has a rhyme that describes the seed or plant. The left side of the layout shows the seed, the right the plant it turns into. My favorite spreads are the ones that have a page to pull out into a larger layout. Also depicted are animals that eat the seeds or plants. In the back are some notes about each seed, how to plant them and how long it takes to grow.
Over and Under the Pond
by Kate Messner
5/5 stars
I got to read this book at NCTE, but I'm so glad to have more time with it. I think the detail in the research that Kate Messner has clearly put into this series makes these exceptional books. Books you want to spend lots of time pouring over words and illustrations. I'm glad Christopher Silas Neal has stayed with this series because I love the continuity it brings. His illustrations are always full of gorgeous detail.
The Rooster Who Would Not Be Quiet! by Carmen Agra Deedy
5/5 stars
When you've heard from many trusted Nerdy friends how wonderful this book is.... I just got to it... Too much on my plate.... This is a very very important book to be reading right now. When it is so important to talk about being a leader, about having a voice. Be sure to get your hands on this book and read it and talk about it.
Charlotte and the Rock by Stephen W. Martin
4/5 stars
Loved this sweet story! For every child who has wanted a pet... and was given a rock. Many tongue in cheek jokes, some kids will get, some may need some explaining (but they'll make the teacher laugh!). An ending that I guess I should've seen coming but didn't!
The Chupacabra Ate the Candelabra
by Marc Tyler Nobleman
3/5 stars
This is probably the most fun title to read out loud! I love the colors illustrator Ana Aranda used. Fun read aloud. Good book to get from the library.
Great, Now We've Got Barbarians!
by Jason Carter Eaton
4/5 stars
A new twist on the you-haven't-cleaned-up-your-room cause/effect story. Silly, and it will appeal to young readers. The ending was funny and certainly set up the story for more adventures!
Middle Grade
Braced by Alyson Gerber
5/5 stars
Loved this book about a main character who has scoliosis and has to go through seventh grade with a back brace. Happy to see a very realistic portrayal of a middle grade student dealing with a physical disability.
Please be looking for my upcoming post about this book and make sure it's on your TBR - it publishes March 28th!
Young Adult
Fangirl by Rainbow Rowell
4/5 stars
Finally got to this one! I think it's been on my #mustread lists a couple of times now. I really loved Cath and Levi's story. I was not a huge fan of the fan fiction/additional fiction story. Halfway through the book I stopped reading them. Not sure if it was supposed to parallel what was happening in the novel or if there was a connection between the stories I was supposed to get, but regardless, I didn't read them after awhile.
Currently Reading
This Was a Man by Jeffrey Archer
This is the final book in the Clifton Family chronicle. I've enjoyed all of them - I thought I would be tired of them by now, but have held on to the end! I think this is my first adult read of the year!
Capture the Flag by Kate Messner
I've owned this book for a long time, but just never got around to reading it. I made sure to put it on my #mustreadin2017 list so I could get to it for sure. It's my current purse read - meaning it's the book I carry around and read in the edges!
On Deck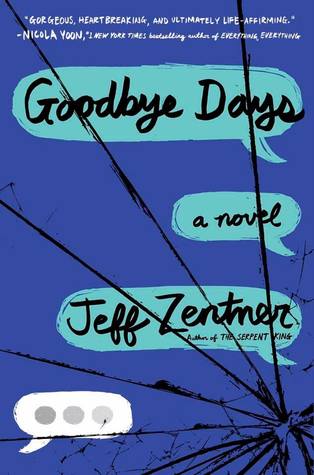 Goodbye Days by Jeffrey Zentner
This will be my first Spring Break read!
Spring Break starts next week for us and I am really looking forward to taking a break, getting in some reading time and plenty of time to RELAX! I'll be taking a short blogging break in order to get in some family time. I have a couple of posts that will go up, but otherwise I'm going to spend more time reading than writing. I'll be back to #IMWAYR in a couple of weeks! See you in April!