Time to get ready for the weekend!
Kick up your feet and find a good place to read.
Sharing #booklove for your classroom or library.
Spotlighting a book or two because these books deserve the spotlight!
Today's spotlight is on poetry! Sharing some new books that you may want to find!
Did You Hear What I Heard? Poems About School
written by Kay Winters
illustrated by Patrice Barton
published by Dial Books for Young Readers
I think I would wait and use this book towards the end of the school year - lots of fun poems that take you through a school year. And with the illustrations by Patrice Barton (The Invisible Boy), this is a book kids will return to throughout the year!
Can I Touch Your Hair? Poems of Race, Mistakes, and Friendship
written by Irene Latham and Charles Waters
illustrated by Sean Qualls and Selina Also
published by Carolrhoda Books
Back and forth poems between the two authors, written as if it were a school project - discussing all kinds of relevant topics.
Crawly School for Bugs: Poems to Drive You Buggy
written by David L. Harrison
illustrated by Julie Bayless
published by WordSong: an imprint of Highlights
Humorous bug poems that are sure to tickle your funny bone!
Dreaming of You
written by Amy Ludwig VanDerwater
illustrated by Aaron DeWill
published by Boyds Mills Press
Beautiful nighttime poem, but a wonderful mentor text - vivid language that loops through the story and connects the poem together.
School People
poems selected by Lee Bennett Hopkins
illustrated by Ellen Shi
published by WordSong: an imprint of Highlights
15 poems celebrating school and the people who are the heart of the school, written by 14 amazing poets. A gorgeous compilation and a must have. Pair with Did You Hear What I Heard? for some fun school reading!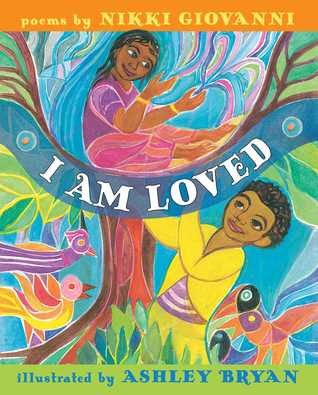 I Am Loved
written by Nikki Giovanni
illustrated by Ashley Bryan
published by A Caitlyn Dlouhy Book
Atheneum Books for Young Readers
Gorgeous poems about being and feeling loved illustrated by the great Ashley Bryan. You can't go wrong with this one!
A Round of Robins
written by Katie Hesterman
illustrated by Sergio Ruzzier
published by Nancy Paulsen Books
I am so excited for this book! It's perfect for young readers and our kindergarteners go through a whole bird unit. I am really happy to add this to their collection. Quick, rhyming poems, there is so much to learn about robins in these fun poems.
Earth Verse: Haiku from the Ground Up
written by Sally M. Walker
illustrated by William Grill
published by Candlewick
This book will have a lot of uses in 3rd and 4th grade with their NGSS. Such an interesting choice for each poem to be in a haiku - every word counts! Each page has a small icon where the page number might be - this icon corresponds with specific information that is found in the backmatter. Makes this book not only a mentor text for poetry, but also for science with the cross curricular ties!
Wow, such amazing poetry we have available right now. I hope you found some to add to your collection!