Wednesdays I join Alyson Beecher from kidlitfrenzy and other
#kidlit bloggers to share wonderful nonfiction picture books.
The intention of today's blog post is to give professionals that work in the
education field
new nonfiction reading material and ideas to use
with students to promote a love of reading nonfiction materials.
Did you know June is Immigrant Heritage Month? Here are some books that you may want to check out and share with readers. The first two books are longer nonfiction books, however, they are written in a way that does not have to be read cover to cover. Share stories or read it all, both books should be celebrated!
First Generation: 36 Trailblazing Immigrants and Refugees Who Make America Great
written by Sandra Neil Wallace and Rich Wallace
illustrated by Agata Nowicka
First of all, I love the title. Nothing tongue in cheek at all here :)
Co-writers Sandra Neil Wallace and Rich Wallace have put together a collection of stories about immigrants who come from all walks of life - some athletes, others from academia, from fashion to technology - all of these immigrants have improved the American experience. I liked that there were many new to me names here. So many anthologies celebrate names that are well-known, this book helped me learn about many people who have done some really great things for America who did not have their start in this country.
I thought at first that I would quickly go through the book, reading a few of the bios, but the stories are so well written, each one drew me in. I wanted to know more about these people's accomplishments, even when it was in a field outside of my comfort zone (hello anything to do with math....).
With backmatter that gives additional sources about each person featured, it's a great jumping off point to learn more information about these amazing people.
We Are Here to Stay: Voices of Undocumented Young Adults
by Susan Kuklin
This is such a powerful collection of stories and at the very beginning of the book, author Susan Kuklin shares how this book had to be changed right before publication.
This book features undocumented young adults. They were very brave to share their stories. However, as this book was very close to publication, the president took away DACA and the face of the book had to change. Changes were made to protect their identity, instead of their names only first initials followed by a dash are used. There are empty boxes within the pages of the book which were meant to have photographs of the young adults. That had to change in light of this changing time.
What didn't change is their story. Told in the first person, these stories are heartfelt and pack a powerful punch. At times hard to read, at times a tough look at the truths of living in America, these stories have a right to be told and heard. So often, it's the voices of young people who may change the future.
I hope this book finds its way into hands of young adults everywhere.
Both of these longer format books are important for middle school and young adult readers. But what about our young readers? Here is a short roundup of books that you can use with students for conversation and discussion about using your voice. While both fall in the fiction category, the truths within the books certainly lie within today's reality, so I am including them in this nonfiction post.
Peaceful Fights for Equal Rights
written by Rob Sanders
illustrated by Jared Andrew Schorr
If you go through this book too quickly you might notice it's written in an ABC format and it's full of words and phrases that explains to young readers what activism looks like. But if you dig deeper, and use this book to have conversations about what these words/phrases mean, how they can make a difference. Ideas that are out of a comfort level and those that spark an idea.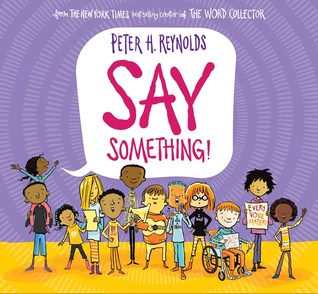 Say Something!
by Peter H. Reynolds
Reynolds gives us a story that encourages young readers to step up and say something. Whether it's to deter a bully or to share a beautiful thought in words, no matter how big or small, your voice matters.