This weekly post comes from Jen at
Teach Mentor Texts
and Kellee and Ricki at
Unleashing Readers
. It's a great source to find new books to use with your students.
One week of school down! Although my reading was slowed, I got to it when I could! I definitely felt the loss of the lazier days of summer when there was a chunk of time I could spend reading!
Picture Books
A is for Musk Ox by Erin Cabatingan
4/5 stars
This book is very very similar to
Z is for Moose
by Kelly Bingham, which I adore, but I think this one is ever
snarkier! And I love my snarky books! Although this book was in my library's "concept books" section, this book goes beyond your typical A-Z book. You have to understand sarcasm, play on words and humor to get this book! I was laughing out loud as I read it and I think there is probably a lot you can teach kids about writing using this "concept book"! Thank you, Linda Baie, for mentioning it last week!
Favorite part:
"T is for headache"
Zebra: What? I don't get it.
Musk Ox: Two male musk oxen,
twenty-five miles per hour
headbutts, ten, twelve,
sometimes twenty times?
Yeah, that's a headache.
Zebra: Why do you do that?
Musk Ox: It's all for the ladies.
I laughed so hard on that last line!
Informational Texts
Wild About Bears by Jeannie Brett
4/5 stars
I really enjoyed this book about bears - it covers the 8 different species in a very accessible way for young students. Each page features a main section of information along with a beautiful illustration with additional captions for more information. Thanks, Carrie Gelson, for this title!
Middle Grade
Dash by Kirby Larson
4/5 stars
My goodreads review:
I love that Kirby Larson is introducing historical fiction to kids that normally don't read that genre. She makes historical fiction accessible!
The story centers around Mitsi, who is Japanese American, living on the west coast during the time of Japanese Internment, right after Pearl Harbor. Mitsi and her family are forced to leave their home, but the hardest part for Mitsi is leaving her dog, Dash. Readers feel for young Mitsi who because of the time and circumstance, feels racial prejudices and grows closer to Dash as a result of her friends turning their back on her.
The second part of the story is the history - young readers learn about what happened in the United States during this time period and the history of our own internment camps. More and more children's books are being published to shed light on an area of World War II that wasn't always discussed. Readers are introduced to the living conditions and what families had to go through when leaving their homes and being forced to relocate.
Thank you to Net Galley and Scholastic for this early read. Check out Dash tomorrow, it's Book Birthday!
Feathers by Jacqueline Woodson
5/5 stars
This is when I'm so grateful to have found Twitter because it constantly shows me new books to read - not just the current and up
and
coming books, but the books I've missed along the way. Feathers is one of those books. I'm grateful for Mr. Schu's and Mr. Sharp's Newbery challenge since they are the ones that introduced me to this book.
Feathers is a beautiful read set during the 1970s when Black Panthers and afros and jive talk were in, but having to live on the other side of the tracks was also still prevalent. This is Frannie's story and her trying to make sense of that in her world.
Woodson creates real characters that come to life in her beautiful telling of their story.
Some examples:
pg. 18 "Like Sean. He can't hear, so you have to use sign language with him. He can talk a little bit, but most people don't understand what he's saying. I guess that's because you have to listen real hard and most people don't want to spend a
lot
of energy on listening to people."
pg. 72 "You just remember there's a time when each one of us is the different one and when it's our turn, we're always wishing and hoping it was somebody else. You be that somebody else when you see that boy. You be the one to remember."
pg. 80 "I guess the writer was thinking about how light feathers are and they can just float everywhere. And I guess that's how hope is too - all light and everywhere like that."
I went back and looked at Ms. Woodson's website, and she wrote a little bit of background info about each of her books. Here's a couple of snippets of what she said about this one:
Where it takes place: "I never name the place but was
imagining this point between the Brooklyn and Queens border - right near Kennedy Airport.
Why I wrote it: "'Feathers' is a book I wrote because I wanted to write about the many ways people find Hope in the world."
I'm really looking forward to Brown Girl Dreaming now!
Adult Read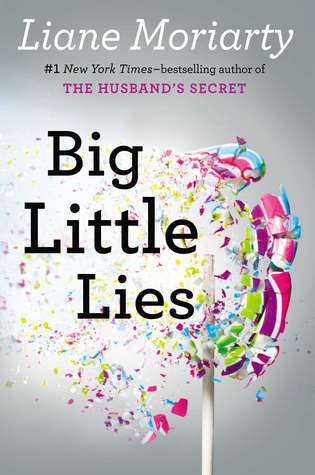 Big, Little Lies by Liane Moriarty
4/5 stars
I always enjoy Moriarty's books. This one was no exception. I laughed because with it taking place in a school, the snark-iness that comes from certain moms... It was funny! The book was surprising, yet predictable at times. It also dealt with a couple of hot, and very serious topics, bullying and physical abuse. Entertaining read.
Currently Reading
The Summer of Letting Go by Gae Polisner
Ok, Beth and Carrie, I've officially started this one but have barely cracked the spine! Too many library books to get through! This is my week for this book!
A Million Ways Home by Dianna Dorisi Winget
I have this book on my
iPad
from
net galley and I'm really enjoying it. Definitely a book for middle grade. This book will be released this Tuesday.
Brown Girl Dreaming by Jacqueline Woodson
I'm receiving this book in the mail this week from Leigh Anne Eck and I CANNOT wait to start it!
Park Scientists: Gila Monsters, Geysers, and Grizzly Bears in America's Own Backyard by Mary Kay Carson
I'm reading this book just a chapter a day on the days that I'm not running from place to place, so it's taking me awhile. I'm getting there slowly! I love the Scientists in the Field series, but they do take me a bit longer to read.
Hope you've found some good reads to share!