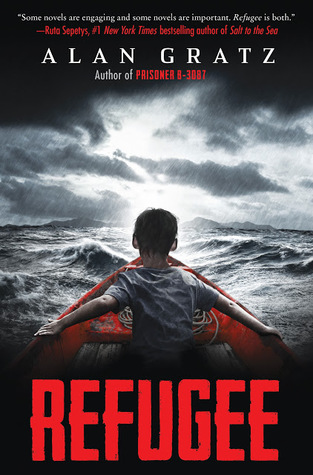 Refugee
When I first saw this cover, I thought it was going to be a story about the recent refugee crisis in Syria. I found out it is, but it's also much more.
Refugee tells us the story of three children and their families. We first meet Josef who is a refugee from Germany, trying to escape Hitler's Nazi regime as they take Jews and put them into death camps. Next is Isabel, a Cuban refugee from 1994, trying to get to freedom in el norte, Miami. Finally is Mahmoud, a Syrian refugee leaving the war zone of Aleppo in 2015.
The way Gratz weaves the stories of these three children and their children is fantastic. While their stories are different, there are common threads that bind each one. The hope of tomorrow, of mañana... caring for each other... and to sacrifice for your family.
I think this story is going to be important to have in libraries that span multiple grade levels. Older readers will have some background knowledge of the political strife that is happening in the countries that the characters are trying to leave. With the understanding of that, these readers will be able to go through the layers of the story and see different sides, how countries and politics change, yet also see the similarities. But I also think younger readers (those without the knowledge of World War II, communism, the political unrest in the Middle East) will be able to tackle this story and understand the need to be the change for the future. They will read this on the purest level of seeing the main characters, what they go through and be able to see the very basic right vs wrong issue. These readers are the ones that can start changing the future of our world be reading books now.
It's with books like this, and putting them in hands of readers, we may have a new wave of thinkers, and our future could change.
Goodreads summary
JOSEF is a Jewish boy living in 1930s Nazi Germany. With the threat of concentration camps looming, he and his family board a ship bound for the other side of the world . . .
ISABEL is a Cuban girl in 1994. With riots and unrest plaguing her country, she and her family set out on a raft, hoping to find safety in America . . .
MAHMOUD is a Syrian boy in 2015. With his homeland torn apart by violence and destruction, he and his family begin a long trek toward Europe . . .
All three kids go on harrowing journeys in search of refuge. All will face unimaginable dangers -- from drownings to bombings to betrayals. But there is always the hope of
tomorrow
. And although Josef, Isabel, and Mahmoud are separated by continents and decades, their stories will tie together in the end.