I think sequels are a tricky thing. If you loved a book, as much as I loved
The Jumbies
, sometimes sequels can be a let down. But sometimes, the opposite happens, where you love the second book even more than the first one. Luckily, that was the case with
Rise of the Jumbies
.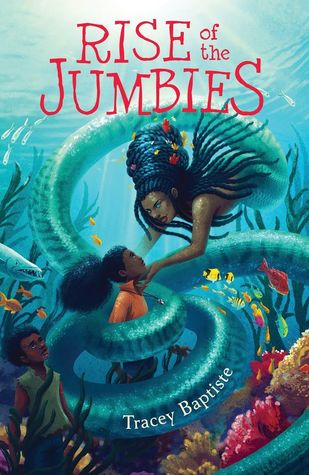 Rise of the Jumbies
published by Algonquin Young Readers
In case you haven't heard about it, here's the summary from Goodreads:
Corinne LaMer defeated the wicked jumbie Severine months ago, but things haven't exactly gone back to normal in her Caribbean island home. Everyone knows Corinne is half-jumbie, and many of her neighbors treat her with mistrust. When local children begin to go missing, snatched from the beach and vanishing into wells, suspicious eyes turn to Corinne.

To rescue the missing children and clear her own name, Corinne goes deep into the ocean to find Mama D'Leau, the dangerous jumbie who rules the sea. But Mama D'Leau's help comes with a price. Corinne and her friends Dru, Bouki, and Malik must travel with mermaids across the ocean to the shores of Ghana to fetch a powerful object for Mama D'Leau. The only thing more perilous than Corinne's adventures across the sea is the foe that waits for her back home.

With its action-packed storytelling, diverse characters, and inventive twists on Caribbean and West African mythology and fairy tales, Rise of the Jumbies will appeal to readers of A Snicker of Magic, Breadcrumbs, and Where the Mountain Meets the Moon.
My quick thoughts
There are several reasons why I loved the Jumbies sequel even more than the first one.
the same main characters are in it, so it's like falling back into step with an old friend.

new jumbies, which means new plots, excitement and problems!

I was really freaked out reading the first book! I know a lot of readers love scary books, but most of them I can only read in the daylight. This sequel still has suspense. It still has excitement. It still made me nervous. Maybe it was because I was familiar with jumbies, but I wasn't as scared reading this book. Because of the high suspense, I think it's still going to be enjoyed by all the readers who loved the first one.

I'm thrilled to see more stories featuring people of color and different nations. I am really excited to share this story based on fairy tales from other cultures with readers.

my daughter just started Catching Fire. Like me, she is aggravated that the first book is so similar to the first book. That's one of the things I love about this book - it keeps what we enjoyed about the first book, but it has an original story.

and can we talk about the cover art for a minute? Wow, I could get lost in that underwater world because of its beauty - jumbie or not!
This is a book that needs to be in your middle grade classroom library! Don't miss Rise of the Jumbies on September 19th!
* thank you to Trevor Ingerson and Algonquin Young Readers for the review copy!