All journeys have a starting place.
This is a weekly place to find books and tools
that you may use with readers at the start of their reading journey.
Join in the conversation at #road2reading.
I have long been a fan of Scholastic's Branches series.
Between my colleague and I, we have almost every book, I think at least some books from every series. We know these are books support readers and are perfect for those starting their independent reading journey. I am very excited to share two new series that are coming from the Branches line!
Hilde Cracks the Case: Hero Dog!
written by Hilde Lysiak
with Matthew Lysiak
illustrated by Joanne Lew-Vriethoff
Is this the first mystery series from Branches? Written by young Hilde with the help of her father, she showcases her writing talent, detective skills, and her knowledge of the reporting life!
Hilde is the real life reporter of her neighborhood. Reporting on daily doings and in this book, some interesting mysteries! In this first book, Hilde is trying to track down a sweets thief! Of course this is happening right before a big bake-off contest! Who could be the culprit of this sweet-tooth mystery be?
I love how Hilde details how she goes about solving her mysteries and finding clues. A great book to show that kids can do anything when they put their mind to it.
I am excited for more books in this series. We have two more coming before the year is out and a fourth planned for 2018. Looks like Hilde is going to be a busy reporter!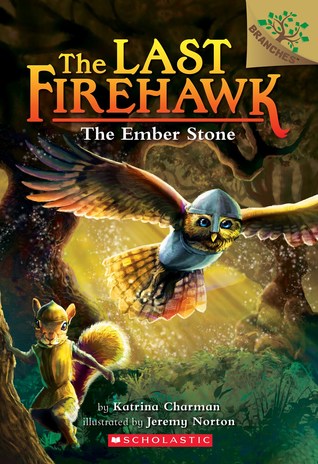 The Last Firehawk: The Ember Stone
written by Katrina Charman
illustrated by Jeremy Norton
In this series we meet Tag, a young owl who just wants to become part of the Owls of Valor. He must work hard to earn his spot on this prestigious team! His first opportunity comes after he and his friend Skyla, a squirrel, discover the last known firehawk. Firehawks have magical qualities and are the only animals who can find the elusive ember stone. It is important to find it because an evil vulture is often looking for it. Whoever has this stone will be able to control a very powerful type of magic.
Readers will cheer on the team of Tag, Skyla and Blaze (the firehawk) as they use teamwork to find the stone. I'm glad this will be a series that continues their story, or maybe I should say quest! Perfect for young readers who are looking for some adventure.
Both of these books will find readers in 1st through 3rd, even 4th grade classrooms.
Stop by Alyson's blog for more #road2reading fun!
Want to talk about books for readers who are on the #road2reading? Link up here!