All journeys have a starting place.
This is a weekly place to find books and tools
that you may use with readers at the start of their reading journey.
Join in the conversation at #road2reading.
I can't believe we're inching closer to the end of the year. Cybils nominations have already closed for the year and the Nerdy Book Club Award nominations will be here very soon. As I look back at past winners, some of the same authors and series are named every year. And while those winners are fantastic, there are some other great books out there. Before we get to the end of the year, take some time and familiarize yourself with some other fantastic reads. This week I'll focus on some great reads for early readers you may want to think about for upcoming awards!
Elephant and Piggie books
by Mo Willems (and friends)
We Need More Nuts!
Or really anything by Jonathan Fenske! His humor will definitely tickle that same funny bone that Mo's books find. Just like Elephant and Piggie did for readers, making reading fun and full of laughter, Fenske's books will continue.
Freckleface Strawberry books
Ballet Cat and her friends are always up to something fun and silly. If you have readers that like the quick yet goofy stories, make sure you direct them to the Step Into Reading Freckleface Strawberry series. Freckleface Strawberry always finds herself into some kind of antics, usually involving her best friend, Windy Pants Patrick. These books have been a hit with my readers.
the Duck, Duck, Porcupine series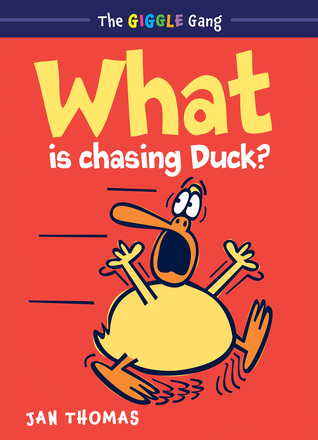 The bright colors and bold lines remind me of Yoon's style. If you have readers that love to laugh, they will love to see what happens to Duck and the gang. Something is always happening, and just like with Yoon's books, the readers know before the characters know. Which means you'll have young readers laughing and interacting with the book before you know it!
I hope you found some new books to read, or some new books to nominate this year! I'm looking forward to seeing what your 2017 favorites were at the end of the year.
Want to know what books were nominated for Round 1 Cybils early reader/chapter book? Check out Alyson's post!
Want to talk about books for readers who are on the #road2reading? Link up here!