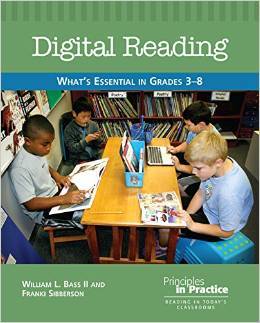 Follow along with our Google+ community and learn from #cyberPD.
This summer we will be reading Digital Reading by Franki Sibberson and Bill Bass.
As I read this book, I'm thinking about the information I want to share with my colleagues. As a literacy specialist/coach, I hope to use my learning to inspire others to try something new! As I write my posts, I'm thinking of what I want to share. I don't want to summarize the chapters, that can get too long. But what are the points that stick to me the most? What are the big picture notes that will inspire teaching to reach students? That's what I'm writing about.
Chapter 1: Defining Digital Reading
Points mentioned in the text and what I see happening in schools:
* kids are more and more familiar with digital devices and how to use them
* BUT kids don't know how to use them to further learning
* knowing how to use an app, how to create folders, how to play games is not digital learning.
*
As stated on page 6, "Just because students are "good" with technology does not necessarily mean they are literate in the digital age."
What is digital literacy?
* being intentional with digital tools
* knowing what to use to enhance learning
* integrating information between devices and pages
* being intentional with all learning texts
* how do teachers move from using apps to reinforce to using digital tools in an intentional way?
* I heard Kristin Ziemke talk at AllWrite and she talked about picking a few apps that are good and intentional in their use and get good at those. But what works best, especially in 3/4gr?
* how do I take reading on a device to the next level?
* what are some digital tools, sites, apps that I can use in my teaching?
Chapter 2: From Reading Workshop to Digital Reading Workshop
We're in the process of changing towards a workshop model. This is a perfect time to integrate digital technology, since everything is new. I think in order to do it right, we need to slowly integrate technology - what are the parts we can add? What would someone who is overwhelmed be comfortable adding? Where would the starting points be?
I want to remember:
The structural components of reading workshop:
mini-lessons

independent reading

individual conferences

small-group instruction

share session and opportunities for response

assessment that informs instruction
Franki shares questions she asked herself when thinking about the types of reading she does in her class.
Questions I would ask a teacher who is just beginning the digital reading journey:
Read-Aloud
Do I only read aloud texts that are from traditional books or do I share digital texts? audio books? blog posts?

Do we use web resources such as author websites and book trailers to help us dig deeper into the book we are reading?

How do we connect with authors whose work we read?

How do we connect with other classes who are reading/have read the same text?

How do we track our thinking during read-aloud? Do I use a variety of tools or only easel and chart paper?

Do we connect with the authors of any of the things we read to extend the conversation?
Independent Reading/Reading Conferences
Do we use online resources for book previewing and book selection?

Do students have digital options during reading time?

Are students connected to others because of their reading (a social component)?

Do students know where to go to find information?

Are students intentional as readers or are they passive consumers?

What habits are students developing behind those of traditional readers?

Do I value all of the reading that students do at school and at home?
Reading Mini-Lessons
Do I use digital texts as well as traditional texts when teaching mini-lessons?

Do I share my own process, consuming and composing in several types of media?

Do I use mini-lesson time to demonstrate tools?
Shared Reading
How can I include a variety of texts for students to process together?
Content Reading
Have I found sources for content reading that go beyond textbooks and traditional texts?

Do I rely on traditional texts or do I use sites?

How am I supporting the importance of visual information in the content areas?

How do we build understanding across different forms of media?

How do we connect information to synthesize understanding?
From the above questions, there are a few (not many!) that I have implemented. But, how do I hand off what I have done to teachers so they feel successful in those areas?
With such a long list of questions, I'd like to concentrate on the read-aloud and content reading first. Many of the questions in the read-aloud question I've tried and/or dabbled with. Many of our classes have had some experience with it, but I'd like to help teachers set up the tools they need to feel confident to do more themselves (Skype visits, tweeting authors, class blogging, sharing blogging, biblionasium sites). I have not used digital texts at all, so this is something I'd like to try more.
Along with that, I think using digital texts and sites for content reading is another area I'd like to expand, first with myself, then sharing with teachers. I am very interested in the idea of using digital media for writing and using multiple texts (traditional and digital) and synthesizing information.
Are you a coach? Where would you start?
Are you a classroom teachers? What areas do you think someone who is just starting this journey would want to concentrate on first?