This summer I discovered some "new to me" graphic novels. Have you seen these? Would be great for a 3rd-5th collection!
Jellaby series by Kean Soo
We first meet 10-year old Portia, who clearly is having some trouble with making friends, paying attention in school and staying out of trouble, even when the trouble has good intentions. We also see that she lives with her mom and there are some questions about where her dad may be. Very quickly, Portia meets Jellaby, a purple monster who appears to be lost. She ends up buddying up, although not willingly at first, with another outcast from school, in order to get Jellaby home. Of course, when you're dealing with a monster that is double your human size, there's bound to be trouble! Fans of Amulet will enjoy this series.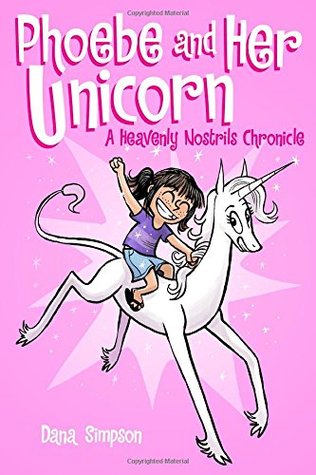 Phoebe and Her Unicorn series by Dana Simpson
Phoebe and her unicorn, Marigold Heavenly Nostrils, had me laughing out loud throughout the entire book. The banter that occurs between the two of them is hysterical. I'm not sure 3rd graders will always appreciate the sarcasm, but I have no doubt they'll enjoy the story.
Phoebe originally started out as comic strip, and as you read the book, you can tell. The transitions are weak and there is often a jump where you're not sure the story has ended and moved on to another story or if you've missed something. After I read for awhile, I started getting the hang of it. It might be something you would want to point out to your readers, just so they understand how to approach reading this book.
I would hand this series off to fans of Raina Telgemeier's books or fans of the Lunch Lady series. Then sit back and wait for the giggles!