This weekly post comes from Jen at
Teach Mentor Texts
and Kellee and Ricki at
Unleashing Readers
. It's a great source to find new books to use with your students.
A long weekend meant time to catch up on some reading. Here's what jumped out at me:
Picture Books
Breaking News Bear Alert by David Biedrzycki
4/5 stars
I picked this one up because it's on the 2016 IL Monarch Choice Award list. I really enjoyed the story, and the stories in the story! The main story is 2 bears were awoken from their hibernation and end up hitching a ride from the forest into the city, where havoc ensues. The majority of the book is told through a news report, with the ticker tape of the events rolling at the bottom of the page. Within the illustrations, you follow the bears adventure, 2 crooks on a crime spree, and the citizens reacting to everything going on around them. This book would be fun for students of many ages to read and enjoy. If you haven't read this one yet, put it on your list!

Max the Brave by Ed Vere
4/5 stars
This book is going to be perfect for younger readers. Max is a brave cat who is off to find a mouse, but he's not sure what a mouse looks like and mistakes a few creatures for mice along the way. Publishes Sept. 8. Previewed through net galley.
The New Small Person by Lauren Child
4/5 stars
I've seen many books about welcoming a new sibling into the family, but they're not always done so a wide range of audience will appreciate it. Child does a great job creating Elmore, we see his personality and watch it change and develop not at once, but with ebbs and flows.
Poetry
Something Sure Smells Around Here by Brian P. Cleary
4/5 stars
Limerick poems are often meant to be humorous and Cleary's poems certainly made me laugh out loud a few times. These short, fun poems will be great for poem-in-your-pocket day!
Dreaming Up by Christy Hale
4/5 stars
Beautiful combination of poetry, illustrations and photographs. On the left side is a short poem and an illustration of a child constructing a building using a variety of materials, blocks, toothpicks and gumdrops, couch cushions, chairs and blankets. And on the right side of the page is a photograph of a real life building that mimics the construction of the child. Real life and imagination come together!
Informational Texts
Growing Up Pedro by Matt Tavares
5/5 stars
This book took me by surprise. I wish I had know about it when I wrote this post about picture book biographies! Gorgeous gorgeous book! The writing is fantastic - drew me in about Pedro Martinez, his family and where he came from, his hard work and determination, and the end notes are wonderful and fulfilled the questions I had at the end. I love that Tavares includes a graph of Martinez's stats in his years of playing ball. The illustrations are gorgeous - the closeups, the stills, the settings. Just beautiful. This is a book I would like to own!
Middle Grade
A Dog Called Homeless by Sarah Lean
5/5 stars
Oh my gosh, another book that took me by total surprise. I did not expect to fall in love with this character as fast as I did. I wanted to jump in and help Cally, or at least give her a hug. Lean did an amazing job with the characters. I was so sad and upset with the dad. The relationship between Cally and her brother was spot on. I adored Cally. I loved her friendship with Sam. I loved the mystery of the dog. And the way the book came together? Well, there were tears. Please read this book. And if you have read it, book talk it again so more kids can fall in love with Cally too!
Favorite lines:
pg. 21 "Sometimes you just have to prove people wrong. Sometimes you just want someone to believe you're more than they think you are."
pg. 55 "Our house had just been built when Mom and Dad moved in. Everything in it was ours. The builders made the outside; Mom made the inside."
Graphic Novel
Roller Girl by Victoria Jamieson
5/5 stars
The buzz you're hearing about this book is correct - it's an awesome book for middle grade readers. The angst Astrid feels - torn between what has been and what direction she wants to go in - is something so many middle schoolers go through as they learn who they want to be. The voice was perfect. I loved seeing Astrid's determination - her successes and failures were sincere. I loved that Astrid's friend had a Broadway obsession - especially with Hugh Jackman! I'm not sure everyone will understand the Les Miserables connection, but it resonated with me!
The only issue I had with this book is the mean nickname Astrid is given by her peers. It contains the word "ass" and that makes this book off limits for my school. I get why it's in there, but when you work in a K-4 building, there are some things that can't be included. Boo.
Young Adult

The Alex Crow by Andrew Smith
4/5 stars
This was my first Andrew Smith book. I knew to expect different. I knew to not be shocked at some of the explicit descriptions. But I was surprised that I could not get into the story. This book is told by 3 different voices, and the main voice actually tells a couple of different stories from different time periods. I knew the stories from each voice would all come together, I just wasn't sure how. At one point I thought for sure I had it figured out and I was wrong. I'm glad I was wrong, because the stories intersected in a way that made more sense and came together brilliantly. About halfway through the story I started liking the 3 characters that were in the main part of the story. At that point, I didn't want to put the book down because of the story. I didn't want to put the book down the whole time because the writing was good. It just took the story a bit longer.
Currently Reading


The Riverman by Aaron Starmer
This is on my #mustreadin2015 list. I pulled it out because #vbcbooks chat is next Monday and I'd like to participate. Since it's a must-read, the decision to move it up was pretty easy.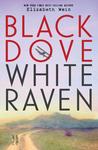 Black Dove White Raven by Elizabeth Wein
still reading this one!
On-Deck
Echo by Pam Munoz Ryan
I Was Here by Gayle Forman