This weekly post comes from Jen at
Teach Mentor Texts
and Kellee and Ricki at
Unleashing Readers
. It's a great source to find new books to use with your students.
Instead of my normal reading - lots and lots of picture books - this time I have lots of middle grade. I was on vacation at Disney World last week (I waved 'hi' to you Kellee!) and got lots of reading done - at the pool or in line waiting to go on a ride. So glad to have the Kindle app!
Echo by Pam Munoz Ryan
5/5 stars
In my mind, this book cements Pam Munoz Ryan as a master storyteller. The way she was able to weave folklore and historical fiction into multiple story lines, was AMAZING. Each story could be told as a separate book, but the real magic is when the stories are woven together.
The book certainly is lengthy. However, the font is larger and the margins are big. I think the size of this book makes sense, because it feels like an epic tome. I don't see this book reaching as wide of an audience as some books, but those who read it, will be touched. Hopefully those readers talk and talk and talk about it to their peers!

Circus Mirandus by Cassie Beasley
5/5 stars
LOVED. LOVED. LOVED.
The mix of heartprint story and fantasy was just beautiful. Gorgeous writing.
The book started slowly for me. I was afraid that the hype had been too much. But then it took off and I couldn't put it down.
This book is a must reread for me. Since it was an ARC, the final artwork wasn't done. I can't wait to see it.
This book comes out June 2. Be sure that it's on your list.
Jack by Liesl Shurtliff
5/5 stars
Rump was a favorite from last year. Jack will be a favorite for this year. In Rump, the character was going on a quest to find his name, to find his story. In Jack, the story is moved forward by the plot - Jack trying to find his papa in the land of giants. But it's the character development of Jack that made me fall in love with the book. I loved Jack's outlook - he wasn't afraid to try but had enough self-doubt that made his crazy ideas seem believable.
Umbrella Summer by Lisa Graff
4/5 stars
My first Lisa Graff book was Absolutely Almost. My second was The Thing About Georgie. Both had such authentic kid voices. Albie and Georgie had concerns that were real and struck a chord with readers. This book was no exception. Your heart broke for Annie and her family. As the outsider looking in, you could see her family breaking and not healing. But the book takes a turn and ends up being such a great book to show the power of healing. Not my favorite Graff book, but it was still very good. I'm anxious to read Lost in the Sun soon!
Return to Augie Hobble by Lane Smith
3/5 stars
I want to start out by saying I think this book has an audience. I just didn't care for the story. For me, it was like Neil Gaiman's Fortunately, the Milk. Not a book that I enjoyed but one that appealed to many other readers (enough so that it ended up on the IL Bluestem Choice Awards list).
I think this book is going to appeal to those readers who enjoy the format of the Wimpy Kid books but are ready for a more sophisticated read. Throw in some folklore and paranormal and you have yourself a story that has various threads that all end up being pulled and woven together.
A Whole New Ballgame by Phil Bildner
4/5 stars
LOVED this book. You're going to remember this teacher - Mr. Acevedo has a style that teachers will recognize. Clearly Mr. Acevedo has read Donalyn Miller's The Book Whisperer. A teacher who cares more about authentic teaching than test scores. A teacher that makes sure there is choice in deciding what you are going to read. A teacher who believes in the power of the read aloud. Throw in a little basketball and a great friendship and you have a fabulous story. It doesn't quite have the heart as LMH's Fish in a Tree, but it is still a story I recommend for all teachers.
I think this book is a great addition for the 3-5 classroom. Watch for it on Aug 18.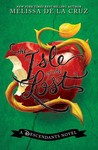 Isle of the Lost by Melissa de la Cruz
3/5 stars
This book is about the children of the Disney Villains. I am a huge Disney fan, especially of the villains! When I bought it, I thought it was going to be a new series and I was excited. It sounds like it could be a series, but what it really is is a prequel for the Disney Channel TV movie The Descendants, coming out this summer. That made it a little commercial for me.
The story is good, not great. Entertaining, if you have the time. I liked the little Disney insides. I will probably read more if there are sequels. It was fun reading it while in Disney!
I was also a little surprised at some of the more mature references. Carlos, the son of Cruella de Vil, has a party while mom is away and hard cider is snuck in to the party. While that went right over the head of my 4th grader, I don't think it was necessary for the story. The de Vils also live in Hell Hall. Why throw in the word hell? Not necessary in my opinion.
Kristy's Big Idea: Babysitter's Club #1 by Raina Telgemeier
5/5 stars
So thrilled Raina is reissuing these graphic novels. I love that a new generation will get to experience the Babysitter's Club!
Currently Reading
Wish Girl by Nikki Loftin
I have many books on deck, but I have some library books to get to first! Happy Reading this week!