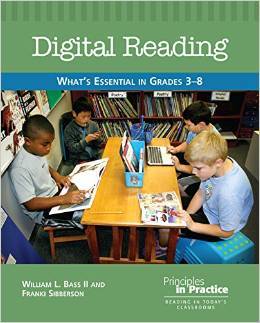 Follow along with our Google+ community and learn from #cyberPD.
This summer we will be reading Digital Reading by Franki Sibberson and Bill Bass.
As I read this book, I'm thinking about the information I want to share with my colleagues. As a literacy specialist/coach, I hope to use my learning to inspire others to try something new! As I write my posts, I'm thinking of what I want to share. I don't want to summarize the chapters, that can get too long. But what are the points that stick to me the most? What are the big picture notes that will inspire teaching to reach students? That's what I'm writing about.
Authenticity
I knew this chapter was going to be a good one after reading the title. I wrote about this last week, how do we push students to use digital tools in a way that pushes their thinking and is authentic in use?
There were two quotes that made me pause and think about the idea of digital literacy and my beliefs.
pg. 34 "When technology is used in a way that authentically enhances the work of the classroom, the students achieve and acquire another layer of learning - and enjoy the experience and process more deeply."
This quote was really
important
to me because I feel when you have any kind of authentic learning, you push students to the next level. When it's authentic, it means something to them that will stick to them - not be something
they've
done once, or done in isolation.
pg. 40 "Learning the capabilities of tools while using them in authentic ways makes the most sense for all of us. Those are the experiences that tend to stick with us. We don't need to know the minute details of every program we run across. We need to know enough to get us going, and we learn what we need as we need it."
This was such an important thought for me because my instinct is to teach students everything about something new. But i think once you get them going, the students will figure out how the tool works best for them. And if they don't, then we step in and conference.
I really liked the next idea by Ann Marie Corgill about introducing a tech idea in the Morning Meeting time. I still want to think about where is the most authentic way to introduce new tools, but sometimes this might be an interesting time and place to do it!
As usual, Franki and Bill asked some questions and gave some definitions that make me really think.
Authenticity means that readers:
do the same reading work in classrooms that they do in the world outside of the classroom

have choice in the ways they read and respond to their reading

own the reading decisions they make; they are not doing things for the sake of an assignment or project

care about the reading work they are doing because it is personal

use digital tools as needed based on their purpose

learn digital tools in the midst of learning experiences, not as a separate experience
I feel like this list is almost able to be used as a rubric! I think teachers can take a project and ask themselves these questions.
Start with a project that may need some tweaking. Using the definition above, what is 1 area that can be changed to make it more authentic?
Teachers as digital readers
The questions on page 30 are really important to reflect upon. Most teachers teach reading at some point in their day. Many teachers are trying to incorporate digital reading in their teaching day. But how many of those teachers are readers themselves? How many of them have digital reading lives? How many teachers reflect upon their reading lives? Sibberson and Bass include a list of questions that are perfect to ponder. The ones I think are relevant to start with include:
What changes have I've noticed in my reading habits over the past several years?

What am I most surprised about when it comes to the ways my reading has changed?

What devices do I rely on as a reader?

Are there certain sites and apps that I visit regularly as a reader?

How do I respond to my reading?

Am I part of any social networks as a way to respond as a reader?

Have I connected with authors or other readers in new ways?
Franki mentioned some different websites and apps that I would like to try. Corculous and Popplet have me intrigued to use for responses. As I prepare for my next book club meeting, I think I'm going to try one of them out. Franki mentions in the chapter, until we go through the steps of what we're asking students to do, can we really make a decision on the authenticity of the device/site.
Intentional Decision Makers
Hand in hand with authenticity is being an intentional decision maker.
When thinking about making intentional decisions between digital and textual reading, there were a few statements that stood out to me that I would hold true.
pg. 47 "We know that for our students, being digital readers means being able to navigate intentionally between print and digital resources."
pg. 47 "Intentionality is the difference between thoughtful understanding and random clicking and scanning."
pg. 48 "Keeping our eye on literacy while embedding the tools naturally in the curriculum seems to be the most critical component in our students' learning."
What this means to me:
I don't have time in my life to do things for the sake of doing them. There needs to be a reason and purpose for most things that I do. We only have students at school for a small amount of time. Our teaching needs to be intentional and we need to have a purpose. If we can hold on to those beliefs when teaching between digital and textual reading, our students will become intentional decision makers instead of clickers and scanners. Finding the right time in the day and what teachers are teaching will make a vast difference when teaching students about how to use a tool or device. I think a great time for students to explain what they used and why they did is at the end of workshop time during the sharing portion.
A rubric/checklist for thinking about making intentional decisions:
The questions that were posed that I would use as a beginner of this would include:
How do the sites and apps that we share with students help them to become better readers and writers?

Do the sites and apps we introduce to students dictate how they engage with a text, or do readers have choices to make?

Are all students expected to do the same tasks on digital tools, or are they given choices in how to complete their assignments?
I'd like to check out some of the websites they mentioned. I'm wondering if they could be put into a digital reading folder or page on an iPad that students could use during independent reading time.
http://kids.nationalgeographic.com

www.professorgarfield.org/toon_book_reader

www.kidsreads.com

www.discoveryeducation.com

and I've already used wonderopolis - love this site!
Connectedness
We talk a lot about creating a community of learners. In our classrooms. In our schools. But are we limiting our 21st century learners by stopping this community within our actual boundaries? How can we create a more global community for our students?
However, it's important to keep this thought in mind:
"We don't connect for the sake of connecting. There must be a meaningful purpose, an authenticity to it, and a diligence in our approach." pg. 70. As we've learned, authentic, intentional meaning makers are what we are striving towards!
Getting connected:
Global classroom connections
Global Read Aloud (fall)

World Read Aloud Day (March)

Slice of Life Story Challenge (blogging, every Tuesday)

skyping with authors
Continued opportunities
classroom blogging

classroom Twitter account

classroom Goodreads account or individual Biblionasium accounts
Next steps
These are ideas that Franki and Bill mentioned that I think are possible to try right away
using Padlet for exit slips or homework responses

creating digital text sets (watching digital videos to help enhance understanding or correspond with thematic reading)

digital tools (collecting a variety of videos and sites that go along with a topic all compiled in the same spot)
So much to think about in these 3 chapters. Yet, great places to start for the fall!