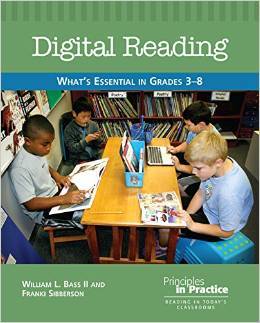 Follow along with our Google+ community and learn from #cyberPD.
This summer we will be reading Digital Reading by Franki Sibberson and Bill Bass.
As I read this book, I'm thinking about the information I want to share with my colleagues. As a literacy specialist/coach, I hope to use my learning to inspire others to try something new! As I write my posts, I'm thinking of what I want to share. I don't want to summarize the chapters, that can get too long. But what are the points that stick to me the most? What are the big picture notes that will inspire teaching to reach students? That's what I'm writing about.
Chapter 6: Assessment: Keeping OurEye on the Literacy
Chapter 7: Beyond the Classroom Walls: Connecting Digital Reading at Home and School
I think the name of chapter 6 is perfect because it encompasses what this book has strived for - being authentic. Just as we need to be authentic and purposeful in our selection of what students use for their digital reading and understanding, we need to stay the course when thinking about assessment.
I felt like this quote was such an important reminder of what assessment is. It's NOT, something we do before report cards or three times each year. It shouldn't give us an end result, but help us understand student learning, and give us next steps. As Franki and Bill say, "assessment techniques should be about moving readers forward in their learning." pg. 90.
When thinking about assessment, the authors included a list of ongoing assessment ideas. How many of these do you use?
kidwatching

taking notes while conferring

analyzing written response

examining student annotations

listening in on conversations

analyzing miscues and oral reading

talking to students about their own goals

collecting artifacts and written responses to reading

synthesizing use of strategies for understading
Purple highlights are things I'm doing well at. Yellow highlights are things I would like to improve upon this year.
Next Steps
I'd really like to try Evernote out. I've said that for over a year now, but I think if we truly are doing ongoing assessments, there needs to be a common place to store information.

I like the possibilities of a classroom Twitter account.
This book has really pushed my thinking about digital reading and what it means. I have some new ideas and new steps to take this year.
What were your big takeaways? Mine is being authentic. How can I use digital tools authentically? What are the sites and apps that are going to push student learning? I have a few to try this year!