All journeys have a starting place.
This is a weekly place to find books and tools
that you may use with readers at the start of their reading journey.
Join in the conversation at #road2reading.
I feel like more than ever, there really are some great middle grade novels being published. So often I read them and then I'm sad. Because the readers at my school are not ready for those books yet. My school is kindergarten through 4th grade. And what is hard to sometimes remember, is that 4th grade students are nine and ten years old. They have a decade of life experiences. Why are we always rushing them to grow up and have them reading novels that, although are amazing, are not always appropriate? I am guilty of this too. Every year as I plan our Mock Newbery list, there are books that I know are probably going to win, but maybe aren't the best for this particular age. Do I put them on the list, or hold off? It's a decision I always try to go over in my head.
Readers also need to have a transition into longer middle grade books. They need a chance to build their stamina. That might mean they are finishing books really fast. But... allowing readers time to get comfortable reading longer books. Getting comfortable holding an idea - or even multiple story strands - across a novel. Allowing readers to have a chance to build their repertoire of books read. By doing these things, the transition to middle grade novels will be smooth and seamless.
When I think about readers, particularly those in second and third grade, there are many books that fit these readers, yet are not often in classroom libraries. Take a look at this list, what do you have? Missing anything? Add some of these to your wish list or library list!
"Rider Woofson" series by Walker Styles
"Dory Fantasmagory" series by Abby Hanlon
"Princess in Black" series by Shannon Hale
"Notebook of Doom" series by Troy Cummings
"Puppy Pirates" series by Erin Soderberg
"Piper Green" series by Ellen Potter
"Lola Levine" series by Monica Brown
"Owl Diaries" series by Rebecca Elliott
"Dr. Kitty Cat" series by Jane Clarke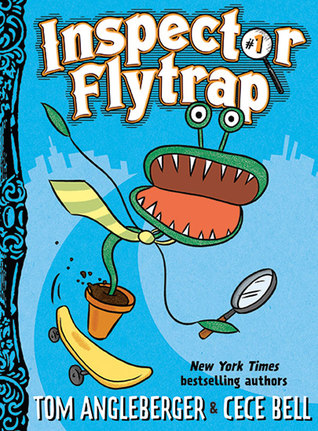 "Inspector Flytrap" series by Tom Angleberger and Cece Bell
"Captain Awesome" series by Stan Kirby
"The Bad Guys" series by Aaron Blabey
"Mr. Pants" series by Scott McCormick
"Commander in Cheese" series by Lindsey Leavitt
I really enjoy all of these series and know they are a hit for second and third graders. I
would
have them available for students kindergarten through fourth grade because everyone is on their own path to reading. We want to make sure we have books that are matches for all readers!
Be sure to visit Alyson's post filled with more books for readers who are beginning their reading journey.
What series do you love passing on to transitional readers? Share your favorites in the comments. Or, do you have a post or a Goodreads shelf of transitional chapter books? Link it up below!