All journeys have a starting place.
This is a weekly place to find books and tools
that you may use with readers at the start of their reading journey.
Join in the conversation at #road2reading.
I already know the answer so you don't have to tell me. Have you ever had that student that needs movement? Maybe even craves it? Sitting still in a regular chair isn't their thing? While that's not the way I think, there are kids who did much better with school work after and during movement breaks. Let me introduce you to one such thinker...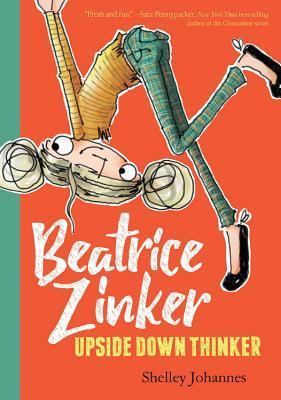 Beatrice Zinker Upside Down Thinker
published by Disney Hyperion
Beatrice is creative, fun, loves adventure - especially when it's paired with her best friend! But her best thinking comes when she is upside down. One foot on the ground, head down, both feet off the ground, head down. Either way, that's how you'll find Beatrice coming up with her next idea! The problem is, most people, especially the adults she knows, don't like it when she's upside down. What makes it worse is when her best friend - the former adventure loving Lenny - comes back after summer break wanting to try something new... like fitting in and being like everyone else. Beatrice is going to have to try some very creative thinking to get her best friend back!
I'm thrilled with this first book in the series! This is a transitional chapter book that will appeal to your younger readers who are ready for longer books, and appeal to your older readers (I am giving it to the 4th graders at my school), who need supports in their reading. Here's what I like:
short, manageable chapters

a character that is fun - she has her quirks which makes her interesting!

realistic fiction - setting and plot will feel realistic

hybrid book with text and illustrations. And the illustrations have spunk, they stand out to me more than your typical hybrid book illustrations
I think Beatrice would also make a great read aloud, especially for the beginning of the school year. Your students will love meeting her.
I'm really looking forward to more Beatrice stories in the future!
Swing by Alyson's post to see some new releases.
Want to talk about books for readers who are on the #road2reading? Link up here!