I have been fortunate to pick up some amazing books that are coming soon from Random House. Some that you will want to have on your TBR!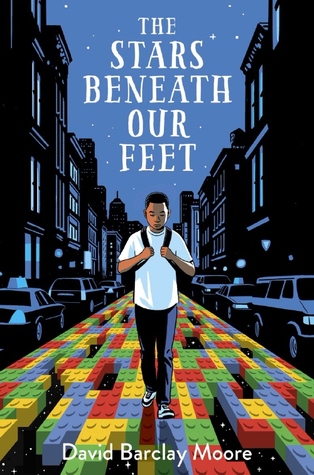 The Stars Beneath Our Feet
published by Alfred A. Knopf Books for Young Readers
This book was blurbed by Matt de la Peña and it reads like a de la Peña book! It's full of tough situations, an #ownvoice novel, that is full of heart.
We meet Lolly, a 12 year old boy who lives in Harlem and is trying to make sense of his world that has just seen his older brother shot and killed. His solace comes from building magical cities and stories from legos.
The book is full of diverse characters. Living with Lolly in the St. Nick Projects in Harlem are Rose, a character who has unspoken special needs (the reader can tell she is probably autistic, even though her character says she is not) and Vega, Lolly's best friend whose family is from the Dominican Republic. Lolly himself is from a diverse family - his father is an immigrant from Trinidad and his parents, who are no longer together, includes his father's girlfriend and his mother's girlfriend.
The main story line of Lolly trying to go through and process the grief and hatred he feels from his brother's death is a powerful storyline. The main character is twelve and lives in Harlem, so there is conflicting sides of who Lolly is - processing grief through building with legos and starting to figure out his passion for architecture and building with the twelve year old who has to deal with crews (similar to gangs), getting hit up by these crews and taking their possessions, and retaliation. It gave me so much to think about and it really made me think about the word "privilege".
What was problematic for me was the description of people and situations in the book. Because of the diversity (African Americans, gay community, special needs), there were conversations and words used to describe groups of people. Some of the descriptions made me uncomfortable because of the negative connotations it brought. However, I also don't know if I am someone who can make a judgement call on that. Seeing that the author works with communities that are described in the book gives me understanding that he has first hand knowledge of how these characters live and speak. I'm sure as the book publishes and gets further recognition, we'll hear more about this.
I think this book will be well read in upper middle classrooms and libraries. It's a book that is needed to provide both mirrors and windows for readers. And perhaps doors to start some new activism for these communities and kids.
Chasing Augustus
published by Alfred A. Knopf Books for Young Readers
One thing I can say about Kimberly Newton Fusco's books is they always have line that make me stop, think, and wonder. Her newest book is no different.
In Chasing Augustus, we meet Rosie who is in a situation that impacts her feeling of safety and home. Her mother has left and before she left, she got rid of Rosie's dog, Augustus. If you know anything about the relationship between a dog and a child, you know that bond is strong and should not be broken! Rosie's father has had a stroke and is in a rehabilitation facility and Rosie is living with her cantankerous grandfather. Rosie is supposed to be making friends with the neighbor boy, but as a foster kid, he comes with his own troubles. And her mom wants to come back and get Rosie to bring her to boarding school. With all of the upheaval, the only thing that Rosie can think about this summer is finding Augustus. However, Augustus seems to have been taken by the town crazy lady. How far will Rosie go to get Augustus back?
Fusco has created an interested character with Rosie. She is very believable as a character you don't know whether to like, to feel sorry for, or to be aggravated with. She is not always likable, yet with everything going on in her life, I think she had to be tough as nails and not always make the decisions we want her to make.
The character of Swanson, the crazy lady and her relationship with Rosie reminded me a lot of the book Pax. If that book won you over, you won't want to miss this one!
Happy Autumn Reading!