Time to get ready for the weekend!
Kick up your feet and find a good place to read.
Sharing #booklove for your classroom or library.
Spotlighting a book or two because these books deserve the spotlight!
Holy picture books! I'm not sure when I'm going to find the time to read, but wow, there's a lot that just went on my TBR....
Picture Books
Harriet Gets Carried Away
by Jessie Sima
published by Simon and Schuster
March 6th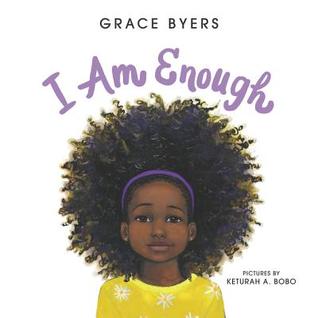 I Am Enough
written by Grace Byers
illustrated by Keturah A. Bobo
published by Balzer + Bray
March 6th
The Field
written by Baptiste Paul
illustrated by Jacqueline Alcántara
published by NorthSouth books
March 6th
A Busy Creature's Day Eating
by Mo Willems
published by Disney-Hyperion
March 6th
How Are You?
by Angela Dominguez
published by Henry Holt and Co.
March 13th
They Say Blue
by Jillian Tamaki
published by Abrams Books for Young Readers
March 13th
If the S in Moose Comes Loose
written by Peter Hermann
illustrated by Matthew Cordell
published by Harper Collins
March 13th
Hello Hello
by Brendan Wenzel
published by Chronicle
March 20th
The Secrets of Ninja School
by Deb Pulutti
published by Henry Holt and Co.
March 20th
All the Animals Where I Live
written by Philip C. Stead
published by Roaring Brook Press
March 20th
Can Somebody Please Scratch My Back
written by Jory John
illustrated by Liz Climo
published by Dial Books
March 20th
A Round of Robins
written by Katie Hesterman
illustrated by Sergio Ruzzier
published by Nancy Paulsen Books
March 27th
With My Hands: Poems About Making Things
written by Amy Ludwig VanDerwater
illustrated by Lou Fancher and Steve Johnson
published by Clarion Books
March 27th
Wow, and this list is just the picture books! Be sure to check back for future posts to see what else we have to look forward to reading in March!
March nonfiction picture book releases