It's a great source to find new books to use with your students.
Last Week's Adventures
Last week I shared the lists of books I have cultivated for potential Mock activities this fall. Take a look - what would you add?
Mock Caldecott... so far
Mock Geisel... so far
Mock Sibert... so far
Picture Books

Neck and Neck
by Elise Parsley
I read this book so quickly at ALA and knew it was a book I needed to own. A delightful story about a real giraffe who gets incredible jealous of giraffe balloons. A great one for A-ha Moments if you teach Notice and Note signposts. This is a mentor text I can use for a specific purpose, but also one that kids are going to just enjoy hearing, probably over and over!
We Don't Eat Our Classmates
by Ryan T. Higgins
If you're looking for the first book to read to your students to show them all the fun reading they are going to do in your classroom then this is the book you want to select! I laughed and I read it out loud to the 13yo and then I read it out loud to my student I see this summer. When in doubt, use a Ryan T. Higgins book!!!
What Can a Citizen Do?
written by Dave Eggers
illustrated by Shawn Harris
I cannot wait for this book to be published on 9.11.18! It is going to be one to share over and over. After reading through it a few times already, I think I would like to put the text down by itself. This book is full of important truths and statements and I think readers of all ages will find a lot to talk about.
Make sure this one is on your preorder list.
What's Cooking, Moo Moo?
by Tim Miller
I love that Moo Moo and Mr. Quackers are back in an all new adventure. This time the quirky pair are opening up their own restaurant. However, the only menu item is the Moo Moo Special. I'm not going to tell you what it on it, but let's just say Mr. Quackers has to come to the rescue.... or does he??? I shared this one with my 5yo niece and we laughed out loud throughout the book!
Everything Y
ou Need for a Treehouse
written by Carter Higgins
illustrated by Emily Hughes
As a kid, I loved playing in all different kinds of forts. But what I really wanted was a treehouse. I had it designed in my head, there would be doors, windows and multiple rooms. This is the book I wish I had because the designs in it have me thinking about treehouses all over again! Lyrical text from Higgins is paired up with whimsical illustrations from Emily Hughes. I can see kids getting lost in these illustrations!
One of a Kind
by Chris Gorman
This book is going to be read for #classroombookaday very early on in the school year! It celebrates that it's ok to be unique and to be yourself, but also acknowledges it's ok to be in a group of people who share your interests.
Pair this with Perfectly Norman by Tom Percival.
Novels in Verse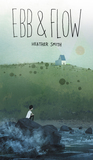 Ebb & Flow
by Heather Smith
I love that Smith decided to keep this story in verse - there's something about it that felt right to the voice of the story.
This is one where you know the main character has done something but you only get glimmers and peaks as the story goes along. I think it builds up the contrast between what we know about the MC and what we find out. Gives us perspective.
Great for upper middle grade readers.
Middle Grade
The Hotel Between
by Sean Easley
This book takes you on a wild ride, where you never know what country you'll be in next, nor do you know who to trust and who is your friend. Easley has crafted a book that keeps you on your toes because the action doesn't really stop and you're constantly learning new information about the world he has created.
I loved how the main character, Cam, is multi-dimensional. His early experiences of loss have made him a nervous soul who is constantly finding new ways he does not want to perish. But he is also someone who has a deep love of family and will stop at nothing to keep them, or bring them back, together.
This is a book I thoroughly enjoyed even though I read it under rough circumstances - I don't recommend reading this book while exercising, the constant up and down of the elliptical did not make it smooth going! I also read this book via an early e-galley. I have a hard time falling into the story when reading electronically. And with all of the twists and turns, I wish I could have flipped back to pages and reread (I haven't mastered how to do this electronically). With that said, whenever I find that I really enjoyed a book despite these circumstances, I know my experience would have been even better with a paper copy. That makes it easy to tell you go preorder this book. You'll be glad to have it to pass to students in September. Unless you read it first, of course....
Thank you Edelweiss for the early e-galley.
The Splintered Light
by Ginger Johnson
This book was compared to The Giver and I can see some similarities. In this world, many things that have to do with the senses seem to be missing - in the main character's world, it's color - and those that are called go to a place where they are able to build a posticum that brings these things together. I would hand this book off to a reader who enjoys some science fiction and world building.
This book publishes Sept. 4th
Thanks to Bloomsbury and Britt Mitchell for the early copy!
The Door to the Lost
by Jaleigh Johnson
Loved this new fantasy book by Johnson - in a new world where magic is bad, Rook and her friends must try and keep hidden because the magic they have is seen as a bad thing. But whenever a character is trying to stay hidden, you know all will go wrong.
This is an exciting adventure and a real page turner.
Give this to your readers who enjoy Brandon Mull's stories or Lisa McMann's The Unwanteds.
Resistance
by Jennifer Nielsen
Nielsen is by far one of my favorite writers. You know when you start a book by her you are in for a treat. Sometimes though, the treat is hard to take. In her upcoming book, Nielsen returns to historical fiction, but as an amazing writer, has done her best to include actual people who fought valiantly for their beliefs. This time Nielsen takes on the Jewish people's fight in Poland during WWII. What I love about books like this, they give me new perspective on events I may not be well read on and give me new understanding.
My daughter's 7th grade class did a lot of reading and learning about this time period. I know other middle school groups that do a lot of reading on different genocides. This is a book that definitely should be in middle school libraries.
Don't miss this book on Aug. 28th. Thank you Scholastic for the preview.
Currently Reading
The Boy, the Boat, and the Beast
by Samantha Clark
I'm starting this one tonight!
Trail of Lightning
by Rebecca Roanhorse
My library has it under Sci-Fi and it does have some other world things in it, but I love the bad ass characters!
What a reading week! Hoping to power through another one this week!