All journeys have a starting place.
This is a weekly place to find books and tools
that you may use with readers
at the start of their independent reading journey.
Join in the conversation at #road2reading.
It's the summer of book piles! This week I am trying to go through some chapter books. Today I am sharing some chapter books that have recently been published and one that is on the horizon. I'm putting them in order of how independent the reader is on chapter books. These books range from books that are supporting newly independent chapter book readers to those who are getting closer to middle grade novel readers.
Fox + Chick: The Party and Other Stories
by Sergio Ruzzier
This book is going on my Mock Geisel list, for sure! Told in three chapter, Fox and Chick go about their day until something funny - at least to the reader - happens. In the first story Chick holds a party... in Fox's bathroom. In the second story Chick teases Fox about the foods he eats as compared to what he should be eating... until he realizes foxes normally eat birds. In the final story Chick wants his portrait done yet can't sit still. Each story is full of humor that doesn't talk down to young readers, but expects them to understand the implied silliness. I haven't seen this since Elephant and Piggie. I'm looking forward to more in this series!
King and Kayla and the Case of the Lost Tooth
written by Dori Hillestad Butler
illustrated by Nancy Meyers
I fell in love with the "Buddy Files" series years ago. I love that there is a new series - with actually the same dog! - for readers who are looking for chapter books they can read with support. In this new one, Kayla loses a tooth while at school but loses it before she gets home! Never fear, King is on the case! Another fun mystery to solve with one of our favorite dogs.
Polly Diamond and the Magic Book
written by Alice Kuipers
illustrated by Diana Toledano
Perfect for fans of Dory Fantasmagory, Polly has just as crazy of an imagination and she also has the help of a magic journal to help her out. Just write what you want in the journal and it will come true! Want an aquarium on your wall? Just write it down! Want to be invisible? Done! Short, illustrated chapters makes this book perfect for readers looking for their chapters to be a little bit longer, but still have some picture supports.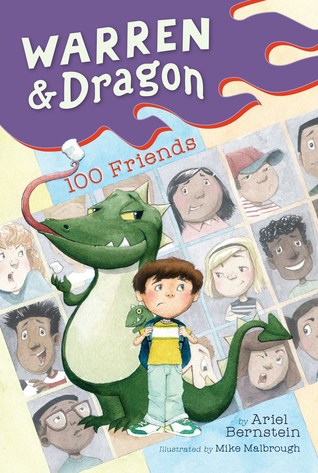 Warren and Dragon: 100 Friends
written by Ariel Bernstein
illustrated by Mike Malbrough
publishes August 28th
The first two books in this upcoming series will publish at the same time. I can't wait to get them into the hands of young readers this fall. I think the sweet spot for this series will be for first and second graders who are ready for longer chapters and less pictures.
Imagination is strong in this series too, since Dragon just happens to be a stuffed animal that comes to life in Warren's imagination. Although it seems Dragon might be getting into some real trouble too! Full with real life kid-problems, I think this series is going to be a hit!
Two Dogs in a Trench Coat Go to School
written by Julie Falatko
illustrated by Colin Jack
I think your readers are going to have a hard time not laughing out loud while reading this one!
This book is longer - coming in at 184 pages - but it will be full of laughter! The narrators are the dogs, meaning we're seeing everything from their level. Well, except when one is standing on top of the other dog and they are walking around like that with a trench coat on so they appear more human. You know. As dogs do. And one speaks human.
Readers will suspend disbelief as they read about Sassy and Waldo and their adventures at their boy owner's days at school.
Lots of great new chapter books for your readers! As you are planning for your libraries this fall, make sure you include some from this list. Your readers will thank you!
Do you work with readers who are starting their journey on the road to reading? Join Alyson Beecher from
Kid Lit Frenzy
and me every Thursday as we explore books and ideas to help readers have a successful start to independent picture book and chapter book reading. If you blog or have a Goodreads page, please link up with us!