This summer I'll be sharing chapter books that are perfect for a range of readers.
Stop by every Thursday and find a round up of books you'll want to use with your readers!
I hope you stopped by last week to find out about this summer series. Here's the post if you missed it!
In yesterday's nonfiction post, I shared some books about space. I thought I would continue the topic and share some chapter books that might intrigue readers. The first book is perfect for 1st-3rd graders. The other chapter books are a little bit longer, each going over the 200 page mark, but are supported by illustrations on every page. I think the target reader for these books would be a mature 2nd grade reader through 5th grade. However, the topic and humor will reach many readers.
Sydney and Simon: To The Moon!
written by Paul A. Reynolds
illustrated by Peter H. Reynolds
I'm sure most of you know the fabulous Paul and Peter Reynolds by now, but did you know they have collaborated on a STEAM chapter book series? This series features mouse twins, Sydney and Simon, who, like Paul and Peter, have twintastic ideas! Each book features quick chapters that have half page illustrations so they are perfect for readers who are just starting to independently read chapter books.
In this story, Sydney and Simon are competing with their classmates in the "Explore the Moon" STEAM contest to meet a famous astronaut that grew up in their town. While they start out working separately, they quickly find Sydney's creative art project and Simon's research based factual project go together for the best STEAM project. But will it be enough to win?
Klawde, Evil Alien Warlord Cat
written by Johnny Marciano and Emily Chenoweth
illustrated by Robb Mommaerts
If you are looking for your next read aloud, put this at the top of your list!
Meet Klawde and Raj, the stars of this series. Told in alternating voices in alternating chapters, readers will love the voices of the characters. Klawde is an evil, warlord cat from planet Lyttyrboks (yeah, say it out loud... you're going to get giggles!) who has just been overthrown by the evil(er?) General Ffangg and has now been sent to Earth as punishment. Raj is the human boy who has just adopted Klawde. The formerly confident Raj is now a nervous and sad kid because his parents have just uprooted him and moved him across the country from super-cool Brooklyn to Elba, Oregon. And to make matters worse, he's enrolled in a survival camp where he must figure out how to make it in the wilderness or be taken down! Klawde and Raj end up working together to make a transmitter and teleporter to get Klawde back to his home planet.
The chapters are very short and there are illustrations on many layouts.
Once I got into the flow of the first book, I ended up laughing out loud and kept thinking about how readers will react. This would be a great book to read out loud and then let kids read the rest of the series on their own. Just make sure you have extra copies! Book 2 is available now, book 3 publishes Oct. 8th.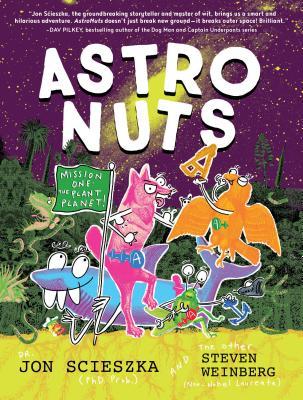 Astro-Nuts Mission One: The Plant Planet
written by Jon Scieszka
illustrated by Steven Weinberg
When you have these two at the writing and illustrating helm, you know you're in for a zany adventure!
It's time to find a new planet to inhabit and it's up to the Astro-Nuts to find the next Goldilocks planet - one that is just right. The Astro-Nuts include the mutant animals, AlphaWolf, SmartHawk, LaserShark, and StinkBug. NNASA (Not-NASA) has sent them to the Plant Planet to see if it is unoccupied and will support human life. Blasting off in a rocket ship that is actually Thomas Jefferson's nose from Mt. Rushmore, the 4 astro-nuts are off to explore the planet. And since it's a plant planet, nothing will go wrong, right? Of course nothing goes right, but as they (and the reader) learn along the way lots of information about global warming that might make them (and the reader) think just a bit more about what is being done on planet Earth.
This is one busy book! Every page is full of illustrations that often have captions that add to the story, but the reader has to be able to put all of the information from the text and illustrations together to fully understand the story. The completed book (I read the ARC) will have full color illustrations.
Readers who like The Bad Guys series and other hybrid books are going to love this one. And yes, it will be a series. Lots of other planets to go check out! Make sure this is on your TBR list for September. It's a ways off, but you will have readers for this one!
All journeys have a starting place.
This is a weekly place to find books and tools
that you may use with readers
at the start of their independent reading journey.
Join in the conversation at #road2reading.