This weekly post comes from Jen at
Teach Mentor Texts
and Kellee and Ricki at
Unleashing Readers
. It's a great source to find new books to use with your students.
I was traveling last weekend and wasn't able to get in my usual posts. This week I'll highlight the best of my two weeks of reading! You can see all of my books that I read on my Goodreads shelf. Check my link on the right!
Starting with:
Zen Shorts by Jon J Muth
5/5 stars
I loved this book with the Panda, Stillwater, teaching the 3 children different lessons with his stories. Muth explains in an author's note in the back of the book the Zen origins of the stories. I think the lessons actually go along very well with Notice and Note strategies!
One of my stops in D.C. was The National Zoo. I wanted to specifically go there to see the pandas. They unfortunately weren't outside but inside their domains (which I will always think of that way because of The One and Only Ivan).
Picture Books
A Pet for Fly Guy by Tedd Arnold
5/5 stars
I love that Fly Guy came out of his usual early chapter book and entered into a picture book! The text is still rich and the storyline fun. Young readers will love this new installment.
I Didn't Do My Homework Because... by Benjamin Chaude
3/5 stars
Some of the homework excuses in this book were fantastic - blaming it on the cough medicine he took the night before or because his little brother had his little "problem" again (turning into some weird hairy beast). Most excuses were just ok.
Stella's Starliner by Rosemary Wells
4/5 stars
This was a fun find for me because I didn't know what to expect. It ended up being a great book to use for bullying and knowing home is where your heart is!
Miss Maple's Seeds by Eliza Wheeler
4/5 stars
Great spring story about Miss Maple, a small, little lady who gathers seeds at the end of fall, takes care of the seeds all winter, to spread them in the spring time. Beautiful illustrations.
2015 Monarch Nominees
One of the state reading awards that our students vote on is the Monarch Award. This award is for students in K-3rd grade. My school library got a lot of the titles this week and I got to bring a stack home to preview! Here are some of my favorites:
The Princess and the Pig by Jonathan Emmett
If I Built a House by Chris Van Dusen
Miracle Mud: Lena Blackburne and the Secret Mud That Changed Baseball by David Kelly

Prudence Wants a Pet by Cathleen Daly
Poetry
The Poem That Will Not End by Joan Bransfield Graham
5/5 stars
This was my find of the week. I cannot say enough good things about this book. Cute story that talks in rhythm and rhyme, but then there is a poem on each page. Great to show students you can find inspiration for writing poems in your daily life! The poems featured are of different poetic forms. Don't know which ones they are? No problem, in the back of the book is a glossary of the different forms as well as the corresponding page number they can be found on! Great book for your poetry collection!
Early Chapter Books
I find this genre is always one of the hardest to find. It seems that books go straight from picture books to middle grade and those young readers (1st and 2nd grade) who are ready for chapter books but not middle grade books get left out! I'm thrilled that Lauren Myracle is writing books for this genre! Her series, The Life of Ty, is about the brother from the "Winnie" series who seems to find trouble when he definitely is not looking for it! I highly recommend this series for 1st-3rd graders.
Books that have characters that tear at your heartstrings
I came across this post from The Stylin Librarian via Margie Myers-Culver @loveofxena about characters that have flaws... kind of like Auggie from Wonder. Since that book has a very special place in my heart and we have many 4th graders reading it, I decided to plow through this list and read the ones that are appropriate for that grade level. I love having a variety of books to hand off when I know a student "likes" a certain type of book. Here are two that I got through so far:
Alvin Ho Allergic to Girls, School and Other Scary Things by Lenore Look
4/5 stars
As I mentioned before, I love finding books that I can give to a variety of elementary students and know it's appropriate content they are reading. Alvin is a lovable character and kids will like that he does have challenges. Great series for elementary level.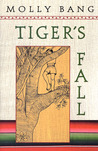 Tiger's Fall by Molly Bang
3/5 stars
I really liked that this book was about an able bodied person who had to learn what it is like to be handicapped. And with Twitter kicking off #weneeddiversebooks, this is a perfect book for that - low-income family living in rural Mexico.
Continuing to Read
Boys of Blur by N.D. Wilson
Exciting... mysterious... adventure... 50 pages in and it's got me hooked!