This weekly post comes from Jen at
Teach Mentor Texts
and Kellee and Ricki at
Unleashing Readers
. It's a great source to find new books to use with your students.
I read a couple longer books this week, so slower volume than usual. I'm enjoying having more reading time!
Picture Books
The Lion and the Bird by Marianne Dubuc
5/5 stars
Loved this beautiful tale of friendship. Lion learns the lesson you have to let something you love go free, if it loves you in return it will come back. The illustrations are just beautiful. I'm going to add this book to my friendship list and central messages list.
Duck Duck Moose by Sudipta Bardhan-Quallen
3/5 stars
Simple text but illustrations that tell a lot more! Young readers will love seeing Moose's
accidental antics. Fans of No David! will like this story.
Edgar's Second Word by Audrey Vernick
5/5 stars
This one took me by surprise. I figured that young Edgar would have a sweeter second word than his first word - "No!" - but I was surprised what it ended up being. I loved that books and reading played such a big role in this story.
Middle Grade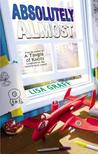 Absolutely Almost by Lisa Graff
5/5 stars
I couldn't even start another kid lit book after reading this because I needed time to let it soak in. This book was amazing. As I said on Twitter, this book does for kids with learning difficulties that Wonder by RJ Palacio did for kids with physical disabilities. Graff shows how a kid who may have trouble learning has more to them than just that. They're a kid, navigating through life. And life can be tough for everyone. Young Albie has friendship issues, with both bullies and with his best friend (his best friend is on a reality TV show, that's a first for a book!). Albie has helpful teachers and teachers that don't help him. Albie has an amazing supporter in his not-a-baby-sitter baby-sitter, Calista. Unfortunately, not everyone sees what she is doing for Albie. And Albie has parents that can be great, and can be frustrating because they don't see the great things in his son. I loved the ending and just wanted to hold the book close to my heart for a little while.
Books for me!
China Dolls by Lisa See
I've been a fan of Lisa See for awhile and I've seen her write some great books and some that are ok. I really enjoyed this one. This book centered around 3 women and told their story during World War II. See's characters are usually Chinese-Americans and are great historical fiction novels. You can tell See has done her research and it shows in the details.
Currently Reading

The False Prince by Jennifer A. Nielsen
I've heard so many things about this series, but it's taking me a bit to get into the book. Sometimes it's hard to start a book or series when it's been hyped up so much. I won't give up! Especially since I own all 3 books :)
Listening with my ears
The Land of Stories: The Wishing Spell by Chris Colfer
I read this book over a year ago and loved it. I have the second and the third is coming out in a couple of weeks. I want to get reacquainted with the series, so thought I would listen to the first one. Chris Colfer reads the story - I think it's neat when the author reads the story. I feel like I hear the emotion the author wanted us to be using when reading!