We know that a big part of the CCSS is to include more informational texts into our
students' reading. I quickly discovered I had a "gap" in my reading diet - the genre of informational
texts! To help me fill the gap this year, I am going to participate in Nonfiction Picture Book Wednesdays! This is a great link-up hosted by
Kid Lit Frenzy
. Please visit this website to see other educator's link-ups. My goal is to read at least one informational text each week and post information on the blog. The more books and subjects I read, the more I can encourage (my #OLW for 2014) other teachers to use in their classroom!
This week I am going to feature two books that discuss immigration. Our 3rd grade does an extensive unit on Ellis Island. This year, my colleague and friend, Laura, did a fantastic job integrating this existing unit with common core standards. The 3rd graders learned even more than past years by using the book ... If Your Name Was Changed at Ellis Island by Ellen Levine.
I was familiar with Ellis Island, but a few months ago, I learned that there was "an Ellis Island of the west", Angel Island. I wanted to learn more so I checked out the book.
I asked Laura to collaborate with me on this blog post, hoping that many of you can potentially use these books to teach students about these coast-to-coast immigration centers.
Angel Island: Gateway to Gold Mountain by Russell Freedman
I was first introduced to the book
Angel Island
after reading this wonderful review by
Margie Myers-Culver
. I was very intrigued by the book since our 3rd graders do an extensive study of immigration, concentrating on Ellis Island. I was thinking of the possibilities of using this book with our 4th graders, who go on a "road trip" and learn about the different regions of the United States.
Angel Island, located in San Francisco Bay, was the place where immigrants coming from the west stopped, before gaining entrance to the United States. Many of these immigrants came from China, Japan, Korea and Russia. Most of these immigrants were of Chinese heritage.
Some men and families were granted entry to our country quickly. Many were detained. Hours, days, months.
Most immigrants came to "Gold Mountain", or California, to seek riches that could not be found at home. A few were successful, mining gold and returning home with their riches. Most were not, having to find low paying jobs. But even these men were lucky - working meant they were allowed into the country. The unlucky spent time "detained" on Angel Island.
Being detained meant interrogations, medical examinations and rough living situations. Detainees were segregated, often by race, and slept in tight barracks. They lived in fear of being questioned, since often the interrogations were intense, long, and said that one small mistake, one small wrong answer could be all that was needed for an immigrant to be deported.
Many of the immigrants wrote their fears and frustrations on the walls of the buildings, leaving a trail behind of their time on the island. In 1970, a California state park ranger found these poems and brought them to the attention of the Asian American community. The building and others on the island had been scheduled for demolition. However, they quickly moved to stop the demolition of this important piece of our history.
I think this book could be used in its entirety, or in small chunks if looking for specific information. The author did a fantastic job detailing what happened to the immigrants and families. The book could be used to gain information as well as lead into discussions of our nation's history, have our policies changed, what do you notice again and again?
The author leaves detailed source notes, acknowledgments and a list of selected biographies. There are many photographs,
including those of the writing on the wall left from the immigrants. Great primary sources.
Going to the East Coast now, to read about Ellis Island, from my colleague, Laura: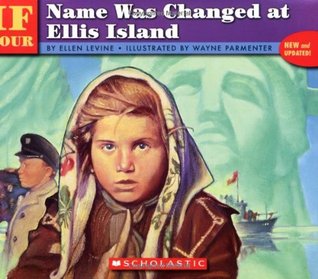 ...If Your Name was Changed at Ellis Island by Ellen Levine
...If Your Name was Changed at Ellis Island
by Ellen Levine is one of a series of informational books from Scholastic. I have to admit, I have seen this book many times over the years but never took the time to pick it up and read it. Until this year! In the midst of common core changes, I was on a quest to find an informational extended text that would be relevant and meaningful to our 3rd graders. Our 3rd graders do a big immigration unit that culminates in an engaging simulation of Ellis Island, and we just so happened to have multiple copies of this book on hand. So it was meant to be (for this year:).
I have to admit, I slightly judged this book by its cover at first. To me, the illustrations leave something to be desired. And I was worried the students would do the same and be less than excited to read it. My one wish for this book would be to include authentic, engaging photographs to go along with the content. So instead, I used other texts and resources to bring Ellis Island to life with actual pictures of the immigrants.
...If Your Name was Changed at Ellis Island
is organized into a series of questions that allow the readers to discover who came to Ellis Island, what it was like for them, how they got there, and why they left their homelands to make the harrowing journey. I worked closely with the 3rd grade teachers to determine which parts of the text they felt would be meaningful for the students to read and discuss. Many of the students thought we were "breaking the rules" by only reading parts of the book, instead of cover to cover. It was a great lesson to them to understand how informational text can help them, and when they know what they are looking for it is not always necessary to read the entire book.
I was pleasantly surprised by how much the students connected with the book right from the introduction. The Introduction lent itself to building background knowledge related to world geography. We pulled up a world map and spent time identifying various countries and students got excited to share some of their family history. They really loved studying the Bering Strait and seeing how some believe that the Indians immigrated across from Asia on a strip of land thousands of years ago. I could tell this was new and thought-provoking information to many of the students. There is a great deal of vocabulary that students are expected to know, but the author also finds ways to connect to the reader. When the author wrote "This book is about their (immigrants) journey, their hopes and difficulties, and their adventures," the students were excited to read on. It helped them know it wasn't going to be a dry list of facts, but a glimpse into the challenges and celebrations that these people went through.
The best part of this book was that it naturally led students to ask more questions. It told them just enough but seemed to leave them wanting more. One example is the section that discusses the Staircase of Separation. This was the point where immigrants were either allowed to leave Ellis Island to start their new lives or go to the "much-feared detention rooms." Although students were happy to read about the immigrants who began their lives in America, they desperately wanted to know more about those dreaded detention rooms. What happened there? How long would they have to stay? Would they ever be allowed into America? Students always wrote down their questions and used them in conversations with their peers. But the best part was seeing the students seek out more books about Ellis Island. The students were learning, their interest was peaked, and they were wanting more. Mission Accomplished!
...If Your Name was Changed at Ellis Island
will definitely be a part of the 3rd graders immigration study in the future. I do not think it is enough to be the only book in this unit to stand on its own. But we all know one book is never enough:)