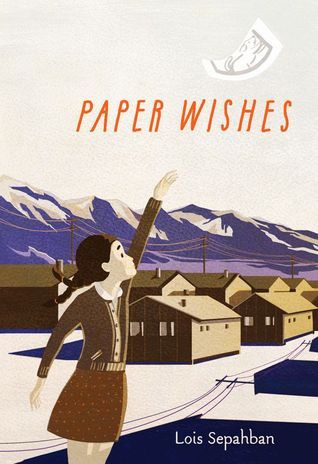 Paper Wishes
Historical fiction is one of my favorite genres, but it wasn't always. When I think of the historical fiction I read as a kid, it wasn't what it is now. And maybe I just didn't know as many titles. Maybe it's because most of the historical fiction I read came from required reading. And we all know how required reading goes... Choice? Or have it chosen for you?
Look at the past ALA YMAwards - Echo. The War That Saved My Life. Half of the Newbery went to the historical fiction genre. It's gotten good.
A new book written in this genre was recently published, Paper Wishes by Lois Sepahban. Once I heard the synopsis, I knew it was a book I would want to read.
From Goodreads:
A moving debut novel about a girl whose family is relocated to a Japanese internment camp during World War II--and the dog she has to leave behind.
Ten-year-old Manami did not realize how peaceful her family's life on Bainbridge Island was until the day it all changed. It's 1942, after the attack on Pearl Harbor, and Manami and her family are Japanese American, which means that the government says they must leave their home by the sea and join other Japanese Americans at a prison camp in the desert. Manami is sad to go, but even worse is that they are going to have to give her dog, Yujiin, to a neighbor to take care of. Manami decides to sneak Yujiin under her coat, but she is caught and forced to abandon him. She is devastated but clings to the hope that somehow Yujiin will find his way to the camp and make her family whole again. It isn't until she finds a way to let go of her guilt that Manami can accept all that has happened to her family.
When I was a kid growing up in the 80s and 90s (I throw that in there because it doesn't really seem that long ago, right??), we learned about World War II. I knew about Pearl Harbor. I learned about the war with Japan. What I didn't learn was the relocation of hundreds of thousands of Japanese Americans in the western part of our nation. Maybe it was mentioned somewhere, but there was never any level of significance placed on it. Why? Embarrassment? Certainly wouldn't want our nation's youth to learn from the mistakes of the past, right?
Thankfully, kid lit authors are now writing about this part of our nation's history. Thanks to books like Kirby Larson's Dash and Sandra Dallas' Red Berries, White Clouds, Blue Sky, I've learned more about this time. Paper Wishes is another wonderful book to add to great kid lit about this time period.
Books like this allow kids to learn what it was like to be a kid during this time. It seems like when we learn about different time periods in history, it's what happened to nations, to countries, what decisions the adults made and the consequences. But what was it like to be a kid living during that time? How did the decision affect a child's life? Thanks to historical fiction written today, we can answer those questions.
Another wonderful thing about Paper Wishes is the audience it was intended for. Our main character, Manami is ten-years old, which means I can pass this book along to younger readers. So often, historical fiction ends up being for students in grades five and above, but this one is accessible to students even younger. The length of the book is doable at 175 pages and the heart of the story will engage those readers.
Fantastic writing and a great story by debut author Lois Sepahban. Pick up Paper Wishes at your local library or bookstore! It's a great one to own.