Oh how I love the villains. And it's not like I really want them to win. Bottom line is I still want the good guys to end up on top. But there is something about the evil characters! Maybe it's the character development. Maybe it's that they so rarely get what they want. My favorite ones are the characters that maybe aren't as bad as we think they are. Characters like Severus Snape. Those bad guys that really have a good heart. Like Captain Hook in television's "Once Upon a Time". It's so fun to like the bad guys.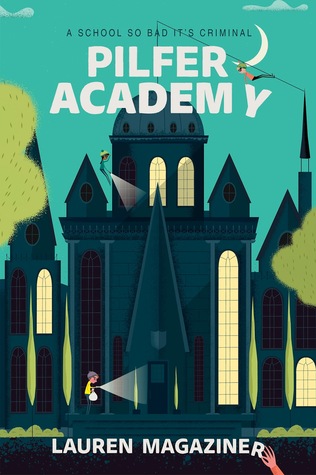 Pilfer Academy
published by Dial Books for Young Readers
When I heard about Lauren Magaziner's new book, I knew it was one that I would enjoy. The tagline of the book is "A School So Bad It's Criminal". How fun is that?
Here's the Goodreads summary:
Troublemaking George has never heard of Pilfer Academy, a top-secret school for cultivating young crooks, until he's kidnapped as its newest student. The teachers are kooky at best, and naughty does not even begin to describe his sneaky, smart, and morally bankrupt new classmates. Between disguise classes, cracking safes, and DIY gadgets, George becomes an expert bandit and finds true friendship with Tabitha, his new partner-in-crime. But everything is ruined when George comes to a shocking realization: He is just too good-hearted to be a thief!
Unfortunately, not thieving is not an option at Pilfer Academy, and "misbehaving" students face Dean Deanbuggle's favorite punishment—the Whirlyblerg! In order to gain their freedom, George and Tabitha must pull the biggest heist the school has ever seen and reveal their true colors not as thieves, but as kind (and, okay, mischievous) kids.
I loved George right away. Here was a kid that was just rascally enough that he got in trouble, but you knew that deep down, he didn't have a hard heart. As soon as he finds himself at Pilfer, you can sense that he's not sure how much this school is for him. But it's the moment when he has to do his first criminal activity in the midterm when you see the conflict within him. And that's the bad guy I love - the one who doesn't really know if he's bad or good.
But every bad, or good, guy has a sidekick. Not that I would call Tabitha a sidekick to her face, she's way too tough for that, but her brash attitude and her willingness to be there for her friend, makes her a character that I rooted for! She is a character that I admired because she was willing to get in trouble to defend her friend, she stayed with her friend even when things became dangerous, and she stood up to authority because she wanted to learn!
The best part about Pilfer Academy is it's a boarding school. There is something appealing to young readers about reading books that have students living at their school. I remember loving these kinds of books when I was a young reader, too! This school will have readers wanting to visit it - hidden rooms with trampolines and as much cotton candy as you want, dining rooms with the most amazing food from the best restaurants, and the softest bedding you can possibly sleep on - who wouldn't want that!
Add suspense and adventure, and you have a book that is sure to entice all readers! I had so much fun reading this book and kept thinking how wonderful it will be to pass this book on to future readers. This book has been compared to Escape from Mr. Lemoncello's Library, and I can see why - with a great cast of characters and the fun and adventure in both books! I see a great future for Magaziner's Pilfer Academy.