Every Wednesday I join Alyson Beecher from kidlitfrenzy and other
kidlit bloggers to share wonderful nonfiction picture books.
The intention of today's blog is to give educational professionals
new nonfiction reading material and ideas to use
with students to promote a love of reading nonfiction materials.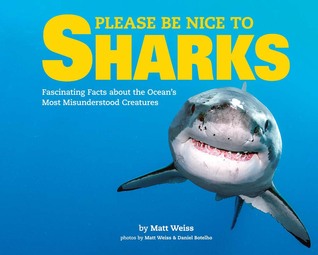 Please Be Nice to Sharks:
Fascinating Facts About the Ocean's Most Misunderstood Creatures
photos by Matt Weiss and Daniel Botelho
published by Sterling Children's Books
"Please Be Nice to Sharks" blog tour!
Living in South Florida for the summer puts me in close proximity to the ocean and ocean life. But I also watch the news and inevitably I see some shark attack reports. What you see and hear can be gruesome. But how often do these shark attacks occur? According to the book there are more injuries due to a vending machine falling on you than a shark attack actually occurring! It's crazy facts like this that will keep kids reading this fun and engaging book.
My favorite page is the first page. Full of reasons of why sharks are misunderstood, this would be a great page to closely read with students and look at reasons why sharks are helpful creatures. Facts that stood out to me:
how many sharks are killed per year - over 100 million! And that's just the number humans kill!

They are often killed for their fins to make shark fin soup, a Chinese delicacy.

Sharks are disappearing quickly, some populations have declined by 99%!

Sharks are very important to control the fish population, without sharks in the ocean, the balance of ocean life would change dramatically, and not in a good way.
This would be a great page to use when doing a unit on that balance of life, or on an ocean habitat. What a great topic to debate!
The rest of the book is written about different sharks and the reasons why people should be nice to them. Each shark "talks" to the reader, having a familiar tone to the reader - examples "What's up?" and "Oh, hello there!" Young readers will enjoy this familiarity, especially since it keeps the factual side hidden in conversation, instead of in dry text! The end of each page concludes with the shark asking the reader to please be nice to that type of shark.
I thought it was interesting that the author is also the photographer of many of the photographs! This is his first book, but I bet with his fascinating photos, it won't be his last!