I love those quiet books, the ones that you start reading and then before you know it you are completely and totally sucked into the story. They take you by surprise. When I read a book that has a lot of "buzz" around it, I go into it with trepidation. Sometimes I love it too, but sometimes the hype is so big it doesn't live up to expectations. But those books that maybe don't have the buzz, they are blank slates. And then when you get so caught up in them. Those are the ones that get me excited. They are books to champion.
Cecilia Galante's new book The World From Up Here is one of those books.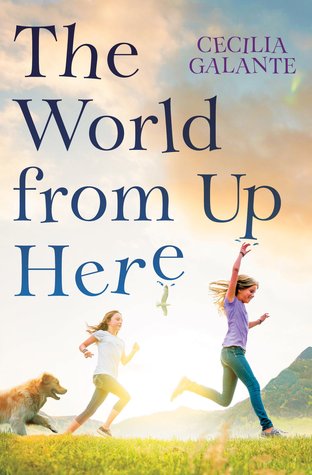 The World From Up Here
written by Cecilia Galante
Goodreads summary:
Wren Baker has never felt brave a day in her life. She doesn't even know what she's afraid of, really. Only that if she raises her voice or leaves her mark or ventures too far from home, she'll risk falling flat on her face.
But that all changes when Wren's cousin Silver walks into her life. Silver is totally fearless. Maybe that's why she's the most popular girl in the sixth grade. She dares Wren to take risks, to live out loud, to finally spread her wings. So when Silver decides to break all the rules, Wren is forced to make a choice: Is she in or is she out?
There's only one way Wren will ever learn to fly. It's time for her to stand at the edge of the unknown . . . and jump.
Full of heartache and hope,
The World From Up Here
is a tender, moving story about old secrets, new friendships, and what it means to face the things that scare us most.
My thoughts:
I hadn't heard anything about this book and Cecilia Galante is a new author for me. I didn't have expectations when I began it. It took me some time to get to know the characters and feel out the situation. We meet Wren who definitely has worries and they go beyond what most middle graders worry about. She is quickly thrust into a new living situation because her mom is hospitalized and needs treatment. While the reader is never told why her mom needs hospitalization until later in the book, there are certainly enough clues to see that she is suffering from a mental health condition. We start to see a connection between Wren's worries and her mom's condition. At first, I was thinking there was a lot in this book - Wren's and her mom's mental health, Wren's brother has Asperger Syndrome, they have a new living situation and middle grade relationships. However, each of those pieces are important to the story and I liked how Galante wove them together.
In recent events, we have heard about books being censored and authors being disinvited from school visits because of books, whether they've written them or not. Like the books that are being censored, this book is going to be important to readers because of the discussion of mental health. Whether a student is dealing with a loved one who has mental health problems, or whether a student has no concept of it and this book brings awareness, it's a book that is needed in classrooms and libraries. I hope you pick up a copy of The World From Up Here and share it with students.