(photo credit to Sarah Brannan)
Every Wednesday I join Alyson Beecher from kidlitfrenzy and other
kidlit bloggers to share wonderful nonfiction picture books.
The intention of today's blog post is to give professionals that work in the
education field
new nonfiction reading material and ideas to use
with students to promote a love of reading nonfiction materials.
Alyson Beecher at kidlitfrenzy.com and I have had a lot of fun playing with Sibert guesses. Have you been playing along? Check out our previous posts:
My Mock Sibert intro post
My Mock Sibert picture books guesses
My Mock Sibert longer nonfiction guesses
and
Alyson's Mock intro post
Alyson's Mock Sibert picture book guesses
Alyson's Mock Sibert longer nonfiction guesses
I've also been having my 3rd grade reading intervention students participate in a Mock Sibert/Sibert Smackdown. Here is more about that:
My Mock Sibert/Sibert Smackdown post
With all of this talk about Sibert, I have some guesses about what the committee may be presenting on Monday. Here are my guesses for the 2017 Sibert Award:
Award: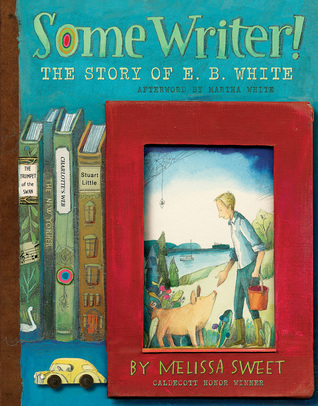 Some Writer!: The Story of E.B. White
by Melissa Sweet
Honor Books:
Giant Squid
by Candace Fleming
Animals by the Numbers: A Book of Infographics
by Steve Jenkins
Jazz Day: The Making of a Famous Photograph
by Roxane Orgill
A Poem for Peter
by Andrea Davis Pinkney
Tune in next week to see how my picks did! Be sure to tune in to the Youth Media Awards on Monday, January 23rd! Next week I will also share what my students chose as their top Sibert Smackdown books.
How did my picks compare to Alyson's? Visit her post and see! She also has a wonderful Mock Sibert giveaway you won't want to miss!
Happy nonfiction reading!