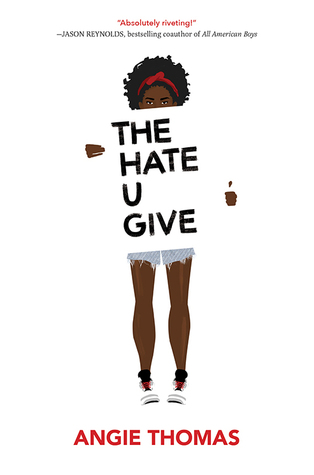 The Hate U Give
published by Balzer + Bray
Goodreads Summary:
Sixteen-year-old Starr lives in two worlds: the poor neighbourhood where she was born and raised and her posh high school in the suburbs. The uneasy balance between them is shattered when Starr is the only witness to the fatal shooting of her unarmed best friend, Khalil, by a police officer. Now what Starr says could destroy her community. It could also get her killed. Inspired by the Black Lives Matter movement, this is a powerful and gripping YA novel about one girl's struggle for justice.
My Quick Thoughts:
I'm writing my thoughts off the cuff, without much thought. I actually don't want to think much about them because I'd rather them be raw and uncensored.
The time we are living in is scary. Living in a Chicago suburb means I watch Chicago news. Every night there is news of shootings. Sometimes you hear the names for a night or two, sometimes they make national headlines. But when I listen to them, it still seems like it's all so far away. Chicago and Chicago suburbs are two very different places.
The words "my privilege" have been spoken more and more lately. I've had time to digest them, think about them, go back and forth with them. I still don't know if I understand them to the fullest extent. And I don't think I'll ever fully understand them because that's what I live behind - a privilege.
I think that sometimes makes it hard to review books. Especially those that are as relevant as The Hate U Give. But here's what I think. If I don't read them, and if I don't talk about them, how else am I going to learn? To open my mind? To understand? I want to grow as a person. I want where we live to change. But if I'm not willing to get uncomfortable about it, then I can't change.
What I loved about this book is Thomas explores so many aspects about the events. The main character, Starr, is so dimensional. I think she's going to react, think, say one thing, but she constantly surprised me. Because events like the ones explored in the book are not cut and dry. Thomas does an amazing job bringing the different sides of conversations to light and it made me constantly think.
I think this book is going to make people talk. I really really hope it's used in high schools everywhere. We need to have this generation getting the conversations going about race and stereotypes and judgments and perceptions and cultures and so many other things. I hope the conversations lead to change and action. I hope this generation can lead the way.
I hope you read this book on February 28th. I hope you pass this book along and find others to read and then talk about this book.