Every Wednesday I join Alyson Beecher from kidlitfrenzy and other
kidlit bloggers to share wonderful nonfiction picture books.
The intention of today's blog post is to give professionals that work in the
education field
new nonfiction reading material and ideas to use
with students to promote a love of reading nonfiction materials.
I've heard about these books, I've owned these books, but I'm just getting around to reading them. I am so glad I got to them because they are fantastic in their own right. If you haven't had a chance to get to them yet, add them to your library hold list or your bookstore pile today!
This is How We Do It
by Matt Lamothe
published by Chronicle
This book goes through the day of seven kids from around the world. I love how the author intentionally did not pick a child from the United States. The goal of this book is to compare and contrast kids from all around the world and see how they go through their day - great conversation about the similarities and differences amongst each family and with the way the reader does things. There is so much wonderful detail in the text and illustrations, I could easily see reading and discussing only a page each day! So much to look at, share and compare!
The only criticism I have is all of the families shown have a mother and father. I was surprised that a book about diversity had such similar looking families.
I think this is a really important book to have in the classroom. Yes, children have different ways of doing things and that is ok and should be celebrated.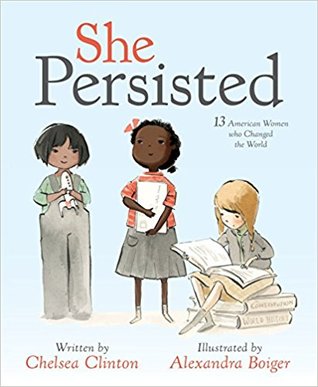 She Persisted: 13 American Women Who Changed the World
written by Chelsea Clinton
illustrated by Alexandra Boiger
published by Philomel Books
This is a book that is needed right now. A book that concentrates on how women throughout American history worked hard - they persisted - to live their dream, to stand up for their beliefs, to show others there are better and more fair ways.
Something that stood out to me are the names of the women who were highlighted. Many were familiar, but others were new names. I like that they were thoughtfully chosen and spotlighted women in different centuries, different occupations and different outcomes.
In a world where fairy tales are read and revered, let's make this the new bedtime story. Let's share this book in our libraries and classrooms to show what working hard and changing the world looks like.
The following two books were recommended to me by Melissa Stewart. She is an invaluable resource for nonfiction so when she recommends something, I listen!
One Proud Penny
written by Randy Siegel
illustrated by Serge Bloch
a Neal Porter book, Roaring Book Press
I needed two readings of this book to really appreciate it! I think young readers are going to enjoy this humorous story, without necessarily realizing they are learning some interesting facts along the way.
It's interesting to think about all of the places a penny may travel, may get stuck/forgotten about on its travels and how long it "lasts". We see a brief history in the life of this penny and learn a little bit about its ancestors and how pennies have changed through the generations!
I liked the end notes including interesting facts, a history of coins and a variety of other resources.
The Hidden Life of a Toad by Doug Wechsler
by Doug Wechsler
published by Charlesbridge
This is the type of nonfiction I'm always on the lookout for! Written for young readers yet chock full of information! Great vocabulary with a glossary and photographs to give support. Perfect book for primary and elementary libraries.
This book follows the life cycle of a toad, detailing the information by days. I had no idea a toad stayed so small - the size of a pea - when it first comes on to land! Amazing what our eyes miss. Great end notes, including a map where to find American Toads. Seeing as they are in the midwest, this is a book we should have in our library!
Gorgeous photographs and perfect text structure for this book!
Happy nonfiction reading!