Thank you Cathy Mere at
Reflect & Refine
and Mandy Robek at
Enjoy and Embrace Learning
for organizing this day. Stop by the Google Community to see even more ideas, or look for the hashtag #pb10for10.
This year's #pb10for10 snuck up on me. I would remember at odd times that it was coming up but never at a time where I got it done, much less thought about it much. Once I sat down to think about it, I didn't know where I wanted my focus to head. I didn't have to look much farther than social media or the news. Because it seems all we see is the state our nation is in. Where it's ok to mock people, build walls to exclude people, make up your own rules and say horrible things but still be elected to a position to make important decisions. Somehow, looking out for yourself, and not thinking about others, is okay. While I surround myself with people who know this is not ok, I wonder how can we avoid getting to this place again? And then I look at our students. Impressionable human beings who are soaking up knowledge and learning what is right and wrong and ok and not ok. How can we make this world better for them? How can we get them to look at things in a new way?
And that's when it hit me. Perspective. How can we teach our young readers to see things, to see people, to see views with perspective? Through literature, of course.
So here are 10 books that can start the conversation on perspective. Some books deal with the topic head on, some go about it using a comparison, but all will lead to important conversations.
Happy #pb10for10 day. Here's to a new perspective!
Nerdy Birdy Tweets
written by Aaron Reynolds
illustrated by Matt Davies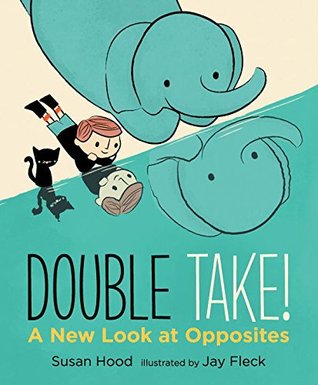 Double Take! A New Look at Opposites
written by Susan Hood
illustrated by Jay Fleck
I Like, I Don't Like
written by Anna Baccelliere
illustrated by Ale + Ale
A New School Year: Stories in Six Voices
written by Sally Derby
illustrated by Mika Song
After the Fall
by Dan Santat
(publishes October 3rd)
A Bike Like Sergio's
written by Maribeth Boelts
illustrated by Noah Z. Jones
Normal Norman
written by Tara Lazar
illustrated by S. Britt
My Two Blankets
written by Irena Kobald
illustrated by Freya Blackwood
Toys Meet Snow
written by Emily Jenkins
illustrated by Paul O. Zelinsky
We're All Wonders
by R.J. Palacio
Want to see past #pb10for10 posts? Take a look!
2016: books to use at the start of the school year
2015: books to use for quick writes
2014: books to celebrate the readerly life
Happy picture book reading!