It's 10for10 Picture Book Day!
#pb10for10
10for10 Picture Book Day is one reason I look forward to August! Getting new picture book ideas is always fun, but my favorite part is seeing how people put picture book ideas together. I see ways to put picture books together that I never would have thought. So many wonderful ideas as we start our new school year.
Since this is the beginning of the year, I'm thinking about books to use right at the start. The start of the year means the start of new habits. Reading stamina and writing long. But first the ideas need to flow. Here are 10 books that inspire great quick writing ideas!
10 Rules of Being a Superhero
This is a great story about the features and talents a superhero should possess. Some of them are surprising and not what you think it would say.
Quick Write ideas: What would your superhero power be? Think about what type of person you want to be, what superhero power would help you with that?
Wild About Us!
All of the animals in this story embrace their uniqueness and those qualities
that make them special.
Quick Write ideas: Think about who you are. What makes you special? What makes you unique? Hang on to this quick write - later take these qualities and add them to a character in a story you are writing.
Wherever You Go
Join this adventurous rabbit as it travels and goes on various adventures!
Quick Write ideas: Where do you want to go this year? What adventures do you think await this year? What will happen if you get stuck, how will you problem solve?
When you think about your reading, where do you want it to take you?
Where would you travel in a book.
Something Extraordinary
A boy makes extraordinary wishes as he travels through nature.
Quick Write ideas: What do you wish for? Look around you - in the classroom, out in nature - what wishes can you make? Hang on to this quick write - later, take out a wish and turn it into a story.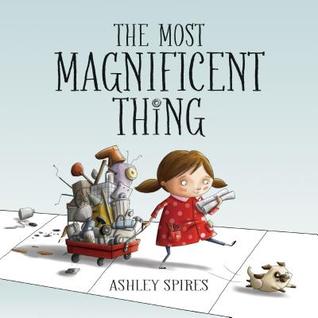 The Most Magnificent Thing
A young girl sets out to make, what in her mind, the most magnificent thing. But what she finds out, sometimes it's hard to take that idea in your mind and make it happen. But sometimes, it's something different that happens that makes the difference.
Quick Write ideas: Talk about growth mindset. Write about the young girl's growth mindset. What did she learn? How can you take that lesson and apply it this year?
The Reader
by Amy Hest
We see a younger reader sent out on a snowy day, in search of a great place
to read a book. I love how the reader protects the book in the suitcase!
Quick Write ideas: What does your readerly life look like? Where do you enjoy
reading? What do books mean to you? What do you want me (your teacher)
to know about you and reading?
Marilyn's Monster
by Michelle Knudsen
Marilyn is waiting to get her monster. She knows it sometimes takes some time.
But then everyone arounds her gets their monster.
Marilyn decides it's time to take matters into her own hands.
But, as she is reminded, that's not how it's done. You must wait.
But if she waits, will she ever meet her monster? Marilyn learns that sometimes,
you have to think outside of the box in order to get a new solution.
Quick Write ideas: How are you at solving problems? What do you do when something
isn't going the way you planned? As the year begins, how are you
going to handle a situation that is difficult? Thinking about Marilyn,
do you agree with how she solved her problem? Why did it work
for her?
There's No Such Thing As Little
by LeUyn Pham
It's all in how you look at things in this book!
With cut outs on each page and the next page a surprise, readers will
delight in looking at things with a new perspective.
Quick Write ideas: What does growth mindset mean
to you?
Write about what the author did with each new idea. Did it make you
look at things differently? How can you look at problems differently?
How can you solve problems differently? Using the concept in this book,
how can you approach something in a new way?
What Do You Do With an Idea?
by Kobi Yamada
In this creative story, a young child has an idea. It's what happens to get the idea
flowing in this story that makes it a fun one to share for a writing mini-lesson!
Just like you can use The Reader to know about your students' reading life,
use this one to find out about their writing life!
Quick Write ideas: Tell me about yourself as a writer.
How do you get ideas for writing? What do you think about the writing process?
What is hard for you? What part do you like best?
What are your goals this year in writing?
What do you want me know about you as a writer?
One
by Kathryn Otoshi
What seems like an easy concept book, actually has a deep, quiet message.
Told with colors and numbers, readers discover that someone is being bullied.
Readers pick up on the message that it just takes one person
to put their foot down and stop the bullying.
Quick Write ideas: How can you be the One this year?
If it were up to you, and everyone would look positively
on your message, what would you do to stop bullying? To promote kindness?
There you have it, 10 quick writes ready to go! I hope these picture books inspire some quick writing that turns into some longer writing for you and your students this year. Do you use any of these books already? Any good writing suggestions you use? Share in the comments for everyone to learn!
Happy Picture Book 10 for 10 day!