Time to get ready for the weekend!
Kick up your feet and find a good place to read.
Sharing #booklove for your classroom or library.
Spotlighting a book or two because these books deserve the spotlight!
Today's post is brought to you in part of Kristen Picone's tweets (@kpt
each5) last month, plus a few extra! If you didn't seen them, no worries, here's a small roundup of books to keep you busy!
We know, representation in our classroom library matters. Do your students see books with mirrors of themselves within the pages? Although my goodreads shelf says "diverse books", what is diverse? Is it a diverse book for an African American to see images of themselves within the pages? Is it diverse for a Muslim to read about a piece of clothing they wear everyday? No, but it shows representation. They matter. Their customs, heritage and beliefs matter. Having books that represent that in your library, matters.
Some books you may want to find and add to your collection:
My Hair is a Garden
by Cozbi A. Cabrera
Gorgeous book that uses a metaphor for keeping tame unruly hair.
Saffron Ice Cream
by Rashin
A young Iranian immigrant is headed to Coney Island. It's the first time she's going to an American beach, and she can't help but make comparisons to swimming in the Caspian Sea. As she finds out, the experience is different in both the rules to follow and what you see and find. However, new experiences aren't bad either!
Calling the Water Drum
written by LaTisha Redding
illustrated by Aaron Boyd
Written to show uncertainty and hope and how they sometimes go hand in hand - this beautiful and sad story shows the plight of immigrants who desperately want the best for their child and how the child finds a piece of home in his new land.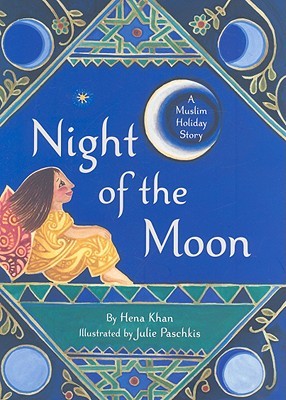 Night of the Moon: a Muslim Holiday Story
written by Hena Khan
illustrated by Julie Paschkis
A Ramadan story that not only explains the holiday but also the correlation between it and the moon.
Rainbow Weaver
written by Linda Elovitz Marshall
illustrations by Elisa Chavarri
Written simultaneously in English and Spanish this gorgeous book is about a young girl who is anxious to weave like mother, but it not quite of age to work the large loom. Instead she builds her own and makes things out found items. This book would pair well with One Plastic Bag by Miranda Paul
Lailah's Lunchbox: A Ramadan Story
written by Reem Faruqi
illustrated by Lea Lyon
Another good introduction to Ramadan, this time concentrating on the fasting tradition.
The Mangrove Tree: Planting Trees to Feed Families
by Susan L. Roth and Cindy Trumbore
This is the one nonfiction book in the pile!
A fascinating story about a scientist who wanted to fight famine with a new idea - planting mangrove trees as a start of a cycle to feed a village.
I loved the organization of the book - on the left side it has a repeating pattern that shows the sequential order of events and on the right side it gives the factual information and shows a cause/effect relationship.
I will return in a few weeks to share some more important stories.