Wednesdays I join Alyson Beecher from kidlitfrenzy and other
#kidlit bloggers to share wonderful nonfiction picture books.
The intention of today's blog post is to give professionals that work in the
education field
new nonfiction reading material and ideas to use
with students to promote a love of reading nonfiction materials.
Oh my, my nonfiction stacks have gotten OUT OF CONTROL! I really need to read and post. I'm hoping to have a month worth of new(er) nonfiction to share with you in the upcoming weeks. Be sure to check back on Wednesdays, here's what's coming:
1. books for little foodies!
2. picture book biographies featuring men
3. picture book biographies featuring women, part 1
4. picture book biographies featuring women, part 2
5. celebrating baseball - Yogi Berra blog tour
6. animal nonfiction books,
part
1
7. animal nonfiction books, part 2
8. the world around us, part 1
9. the world around us, part 2
What I love about picture book biographies is that so many of them introduce me to people I have never heard of before. Today I have some amazing stories to share with you about women who have done it all!
Away With Words: The Daring Story of Isabella Bird
written by Lori Mortensen
illustrated by Kristy Caldwell
Here is a woman whose story I had not been introduced to before - her younger years were full of illness that often kept her homebound. It wasn't until a doctor suggested plenty of fresh air did her health start improving. As she grew older, Isabella went on amazing adventures all around the world and then returned home to write about them. These books were bestsellers at the time, bringing readers on amazing adventures.
The illustrations by Caldwell stand out because of the different frames she includes in a layout that give the feel of a graphic novel.
You'll want this book:
1. the backmatter - full of information and I love the inclusion of sources of the quotes used
2. to show how women don't have to let constraints stop them from what they believe is right
Hedy Lamarr's Double Life: Hollywood Legend and Brilliant Inventor
written by Laurie Wallmark
illustrated by Katy Wu
Another person from history I did not know anything about, but as soon as I found out it was a story being written by the duo that gave us Grace Hopper's story, I knew I would want to check it out. Hedy Lamarr was a famous Hollywood actress in her time. She was able to use her fame to help the United States during WWII by selling war bonds and volunteering at a club for American servicemen. However, what Hedy was not immediately known for was her incredible skills for inventing. Along with a partner, Hedy helped create the technology that we still use today in electronics to avoid hacking.
You'll want this book:
1. to share in STEAM lessons - wonderful to have female representation to show the amazing accomplishments in technology and electronics by females
2. this is a perfect longer nonfiction book that will have many uses in a 3rd-7th grade classroom - with uses in science and history, this is a picture book you'll want to own.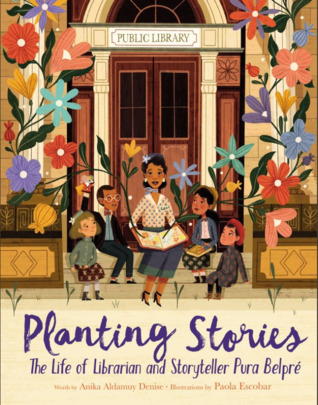 Planting Stories: The Life of Librarian and Storyteller Pura Blepré
written by Anika Aldamuy Denise
illustrated by Paola Escobar
Oh, this is a gorgeous book! The illustrations I poured over for a long, long time. And then the story - I am so glad we have this to share with readers! I've followed the Pura Belpré Award for awhile now, but to understand the person behind the award is really special. I loved learning that she was a librarian. I loved learning about the way she brought culturally relevant stories to her readers. Simply, a must-have!
You'll want this book:
1. when you talk about whose stories are being represented
2. to talk about the importance of all stories being told
3. when you talk about people making a difference
Secret Engineer: How Emily Roebling Built the Brooklyn Bridge
by Rachel Dougherty
Again, another book about a woman in history whose story has been buried, probably because she was a woman. Emily Roebling played a huge part in the creation of the Brooklyn Bridge after her husband, who was the chief engineer, fell sick. What a wonderful book to show girls today that they can do anything when they are determined to get it done.
You'll want this book:
1. to show readers that careers in math, science and engineering are for everyone
2. talk about the character trait of determination
Brave Ballerina: The Story of Janet Collins
written by Michelle Meadows
illustrated by Ebony Glenn
This picture book biography is written in a lyrical, rhyming text that flows just like you imagine the dancing of Janet Collins does. An interesting choice of writing for a picture book biography but it absolutely works with this story.
In the age where more and more people know about the racism black athletes have had to face, here is another story of an African American who worked hard and persevered over the injustices in front of her to become a star. Janet Collins, who I'm assuming was a ballerina who paved the way for Misty Copeland, knew she wanted to dance at a young age and worked hard to achieve her goals. Meadows' words and Glenn's illustrations make the story come alive in front of us and leaves us wanting even more details about this strong female.
You'll want this book:
1. because you want to make sure your picture book biographies are representative of all gender and races
2. it seems like most books that talk about athletes are about men - here's one for the girls!
Since it's Women's History Month, it is a great time to celebrate these amazing picture book biographies. Be sure to check back next week and I have more to share!