I am excited to join Alyson Beecher and other friends in this weekly challenge. Finding great nonfiction picture books isn't a challenge anymore, there are so many wonderful books to be read now! The challenge is sharing them with as many people as possible so they can find this wealth of literature to share with our young readers. Thanks to Aly for starting this weekly link-up and thanks to all who join in! See all of the posts at kidlitfrenzy.
A few weeks ago, Elisabeth Ellington wrote a great post that made a lot of us start thinking. Her post, A Started Kit for Teachers New to Nonfiction, put together a list of inspiring nonfiction titles that could be used with a wide variety of students. I loved what she wrote here:
"What does a starter kit need? Representative titles that show the range and diversity of this genre. Books to read independently. Books to read together. Funny books. Serious books. A range of illustration styles. Books to teach writing. Books to teach research. Most of all, books to invite wonder and much more #booklove."
Of course, that started off a chain reaction. Immediately Carrie Gelson was on board. Here is her thoughtful post.
After a little bit of time, I've put my list together. I organized it by the types of books I would want to have at my fingertips. This list doesn't cover topics. I'm not sure any starter list could properly do that. But I could use this list for all kinds of mentor text reasons.
I would include this book to show

text organization

:
Baseball Is.... by Louise Borden
This book took my breath away the first time I read it. It made me excited. It made me want to write. Maybe not about baseball, but another topic I know a lot about. And that's what a good mentor text will do.
I would include this book to have one
poetry
collection

:
Changes: A Child's First Poetry Collection by Charlotte Zolotow
The poems are fun, beautiful, thoughtful. They brought me back to my childhood. They are organized well. I could go through this collection and find a reason to celebrate all of them.
I would include this book to show

Narrative Nonfiction Writing

: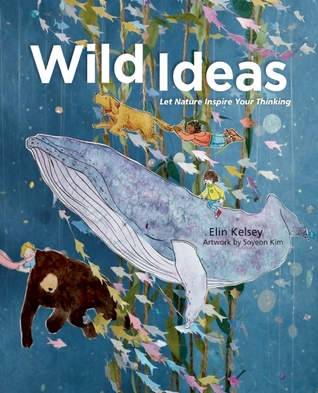 Wild Ideas by Elin Kelsey
Loved this book the minute I read it. Perfect to show how to write in a narrative format, this time in free verse poetic form, but have each page teach you something.
I would include these books to show how

end pages contain nonfiction writing

:
Water is Water by Miranda Paul
If the book didn't have any end pages, you could still use the beautiful words and illustrations to teach the water cycle. But add the end pages in where it shows not only more information about the water cycle, but more information about water and the importance of it to all the Earth's living things, you have a winner of a book here! And Jason Chin's illustrations... lovely.
Water Can Be/A Rock Can Be by Laura Purdie Salas
These books are so beautiful. I love the way Salas crafts her writing to teach and be lyrical at the same time. You could spend hours talking about the teaching points at the back of the book and then going back to the page with the words and illustrations. Violeta Dabija's illustrations are simply gorgeous.
I would include these books to show how nonfiction can be

engaging

reading:
Hippos Are Huge by Jonathan London
This one was so fun! And kids are going to laugh. What better way to get reading then by showing them a book that will appeal to their humorous side?
Bone by Bone: Compaing Animal Skeletons by Sara Levine
This one reeled me in the first time I read it! I loved the comparison between skeletons and the thinking of what could be... Wonderful conversations will happen after reading this book!
I would include these picture book biographies to show

character traits

:
Ivan: The Remarkable True Story of the Shopping Mall Gorilla by Katherine Applegate
To show hope.
Emmanuel's Dream by Laurie Thompson
To show determination. To show making a difference.
Winnie by Sally Walker
To show love.
Growing Up Pedro by Matt Taveres
To show hard work.
I would include these books to show

non-traditional illustrated nonfiction

:
Neighborhood Sharks by Katherine Roy
Can We Save the Tiger by Martin Jenkins
So many books that tackle the topic of animals show amazing photographs. But these books include drawings that simply take your breath away.
I would include these books as mentor texts for

organization

:
Mesmerized by Marla Rockliff
I loved the inclusion of the scientific method within this book.
Creature Features by Steve Jenkins and Robin Page
Using the regular question/answer format, this book also adds voice to the mix!
A Chicken Followed Me Home by Robin Page
Another wonderful question/answer format, but this time it's all about one topic.
I would include this book to show what a great

expository

text looks like:
A Nest is Noisy by Dianna Hutts Aston
Just gorgeously written, you forget you are reading all about the facts!
I would include a book that shows nonfiction can be written in a

different format

:
Drowned City by Don Brown
Loved this graphic novel format for a very sensitive topic.
I would include a book that shows that a

longer nonfiction

book can stay

interesting

:
Sea Turtle Scientist by Stephen Swinburne
I thought sea turtles were interesting, but this book made me understand they are fascinating creatures. A good author can hold your attention over an extended period of time!
I think these books would make up a great collection of nonfiction books. So much to be taught, explored and discussed! What substitutions would you make? What would you keep?