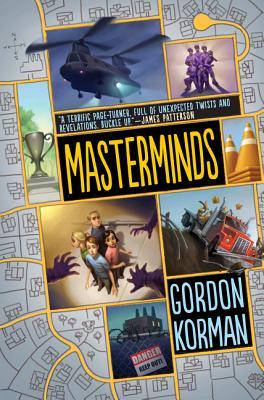 Masterminds
published by HarperCollins
Every once in awhile you come across a book that makes it so easy to hand off to kids. Masterminds by Gordon Korman is that book.
This book has so many elements that appeal to readers - suspense, mystery, friendships, adventure and best of all, evil parents. It has wonky technology and hidden secrets. It has themes of perfection and questions what is ok.
When I first heard about Masterminds, it sounded like a fun book. Just by reading the excerpt, I had a good feeling about it. Once I purchased it, I quickly lost it to my then 9 year-old. She gobbled it up and then happily book talked it to my Voxer friends. We know the power of peers book talking, it works when our students tell us books to read, too. By the time I read it, it was close to summer vacation and I was telling everyone to add it to their summer reading lists.
But what made me so excited about this book was to learn it would be part of a series.
Have you read the first Masterminds? If not, get it on your must read list now! If you have, then it's time to get excited because now, it's time for....
Masterminds Criminal Destiny
published by HarperCollins
release date Feb. 2, 2016
This book picked up right where the first one left off. I always get nervous when there is time between books in a series because I often forget what happened and then throughout the first part of the book I am confused. Not in this one. It doesn't spend much time backtracking or filling in the details. but there's enough to help the reader understand and be able to move on. And move on quickly, you do! The action picks up immediately and there is not much of a lull in the story line.
Of course there is a cliffhanger at the end of this book to set us up for book 3, the final book in what I learned is a trilogy, which will be published in February 2017.
What kind of reader would like this book? Someone who likes:
action

mysteries

suspense

books with non-stop action

books about friendships

books with girl characters

books with boy characters

books that are hard to put down

books where the villains are really easy to not like

technology in their books

series
Ok, I'm going to stop here because I'm pretty sure I've covered most readers. Why?
Because books are for everyone.
So is Masterminds.