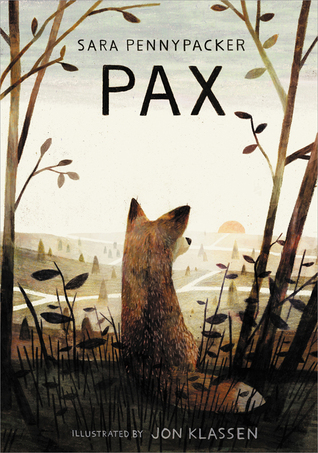 Pax
illustrated by Jon Klassen
published by Balzer + Bray, an imprint of HarperCollins
release date: Feb. 2, 2016
This is going to be a relative short post to introduce a new book.
I know most of you have already heard about the book Pax, the upcoming novel from Sara Pennypacker. You've probably already heard it's amazing. I can only agree with that.
But I cannot give you many details about what it's about. This is a novel you need to read and find out for yourself. By reading reviews and knowing too much ahead of time, I feel would really ruin the reading experience of this book. This is a book that is meant to read with an open mind, allowing the details of the book to be experienced and discovered in the order in which they happen in the story.
I will let you know:
I think Jon Klassen's illustrations are going to enhance this beautiful text.

Pennypacker does an amazing job writing in two voices.

This book will give you, an adult reader, much to talk about. I can't wait to see how kids react to this book.

I'm always looking for books that show multiple story lines and how they are woven together. This will be a perfect mentor text for that.

I think this story has something for everyone. It will be interesting to see how people read this book.
I can't wait to talk to more people about this book. Be sure to find this book on February 2nd. Find a comfy chair and just read.