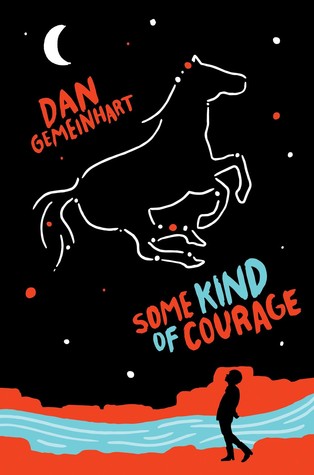 Some Kind of Courage
published by Scholastic Press
Review from Goodreads:
Joseph Johnson has lost just about everyone he's ever loved. He lost his pa in an accident. He lost his ma and his little sister to sickness. And now, he's lost his pony--fast, fierce, beautiful Sarah, taken away by a man who had no right to take her.
Joseph can sure enough get her back, though. The odds are stacked against him, but he isn't about to give up. He will face down deadly animals, dangerous men, and the fury of nature itself on his quest to be reunited with the only family he has left.
Because Joseph Johnson may have lost just about everything; but he hasn't lost hope. And he hasn't lost the fire in his belly that says he's getting his Sarah back--no matter what.
When you talk to many people about books that made them a reader, Gary Paulson's Hatchet, is often mentioned. The action/adventure story grips readers as they read about Brian's tale to survive. As I read Some Kind of Courage, I couldn't help but make comparisons. Readers who are looking for that sense of adventure, who are looking for books that have real-life action, this time with a twist of historical fiction, that don't stop will find a perfect read in this book. Courage has run-ins with grizzlies, a harrowing twist with rapids, and confrontations
with outlaws.
The setting of Courage has us visiting Washington state during the 1890s, when the bad guys are the not-politically correct Indians and Chinamen, and outlaws. I can't think of too many Westerns in today's fiction, which makes Courage a breath of fresh air. The setting feels different, yet Gemeinhart keeps a true voice in Joseph, giving him a Western vocabulary ("I reckon....") and sound that places you into the story. By the end of the story, I had become so fond of Joseph, I wanted to know more of his story, which is a testament to Gemeinhart's writing. We are with Joseph every step of his journey, not only cheering him on, but understanding Joseph's constant understanding of what is right vs wrong. Joseph wants to be the best son his mother and father could've hoped for, and because of that he sees right/wrong with such clarity and he brings us along for the ride. And with the number of outlaws Joseph has to face, that may be a good thing! Each conflict with the next outlaw was a different adventure, filled with suspense. It absolutely made me turn the page and start the next chapter to see what would happen next.
I enjoyed how Gemeinhart wove the themes of friendship and kindness to others throughout the story. Some friendships can become so powerful, they turn into family. I liked how he explored the idea of how families can look different and how sometimes we choose where our home is and maybe what it looks like. Throughout the story, the reader sees examples of how Joseph constantly sets the example of being kind to others, even when it's the hard choice to make.
I will leave you with my favorite line from the book. Please note this came from the advanced readers copy of the book and may be changed in the final version.
from Chapter 17:
"That's how memories work, I suppose; you just go through life collecting them, never letting go of the precious ones but leaving room in your heart for more."
Be sure to check out Some Kind of Courage by Dan Gemeinhart on January 26th at your local library or bookstore.