Time to get ready for the weekend!
Kick up your feet and find a good place to read.
Sharing #booklove for your classroom or library.
Spotlighting a book or two because these books deserve the spotlight!
I love using, reading and exploring nursery rhymes. That familiar rhyme, the lessons some teach, falling into a known pattern. I love finding books that have a fun new take on these old favorites.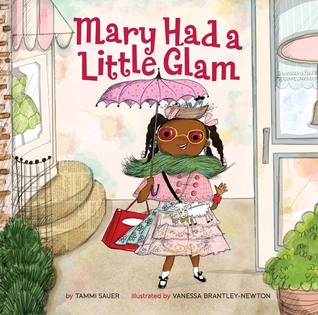 Mary Had a Little Glam
illustrated by Vanessa Brantley-Newton
Mary has upgraded from the fields and hills to boutiques and accessories! Sauer has written such a fun take on "Mary Had a Little Lamb". This Mary is full of glam and glitz and she's not afraid to share! The illustrations are so detailed and fun. Including diverse characters, some that are
familiar - I spotted Jack and Jill, Little Bo Peep, and Little Miss Muffet. At first I was a little concerned - is that the only way you can feel good about yourself, by dressing up? But then Sauer takes the story another way and shows us it's not about what you're wearing, because sometimes it's about having fun.
Grumbles From the Town
by Jane Yolen and Rebecca Kai Dotlich
illustrated by Angela Matteson
published Sept. 13th by WordSong
Another wonderful collaboration by Jane Yolen and Rebecca Kai Dotlich! The pair gave us Grumbles From the Forest which gave different perspectives on familiar fairy tales. This time the authors concentrate on nursery rhymes. Not your typical nursery rhyme book for young children, this picture book is perfect for primary and intermediate readers who can appreciate the different perspectives the poems take on. There are two poems per nursery rhyme, each giving a different perspective than the original nursery rhyme. I think these books are great mentor texts for perspective. Students have to put themselves in the "shoes" of the person/thing in order to get the correct writing voice.