There has been a lot of controversy this past year in the kid lit world. From incorrectly portrayals in illustrations to those in text, to misinterpretations to misunderstood reviewers, to taking liberties with language. My good friend Lesley shared this link that was shared by Grace Lin. I'm not sure who originally said it, if it was Ms. Lin, or someone else, but I think it holds a lot of truth. "things are not getting worse, they are getting uncovered. we must hold each other tight & continue to pull back the veil."
All of this is in my mind as I write this review. As most of you know, I am a white reader. I grew up in what many would say in a privileged manner. I am a copious reader and I learn and grow through books and conversation. I just finished reading the book Unbound which is about a young African American girl in the 1800s who is being "brought up to the big house" to serve the Master and Missus. It is written by Ann E. Burg, a white author. Because of recent controversy, I almost shied away from writing this review. Who am I, a white reader to review a book about a controversial time period written by a white author? But I don't want to shy away from conversation. If I get something wrong, I'd rather talk about it then not say anything at all. I'd rather learn from my thinking than not grow at all. So, here goes.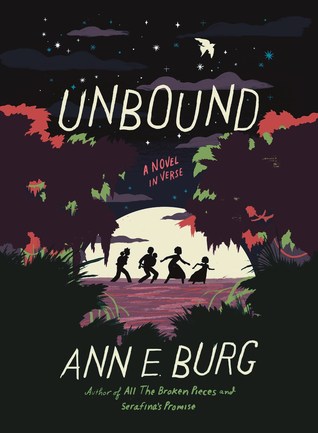 Unbound
Goodreads summary
The day Grace is called from the slave cabins to work in the Big House, Mama makes her promise to keep her eyes down. Uncle Jim warns her to keep her thoughts tucked private in her mind or they could bring a whole lot of trouble and pain.
But the more Grace sees of the heartless Master and hateful Missus, the more a rightiness voice clamors in her head-asking how come white folks can own slaves, sell them on the auction block, and separate families forever. When that voice escapes without warning, it sets off a terrible chain of events that prove Uncle Jim's words true. Suddenly, Grace and her family must flee deep into the woods, where they brave deadly animals, slave patrollers, and the uncertainty of ever finding freedom.
With candor and compassion, Ann E. Burg unearths a startling chapter of American history -- the remarkable story of runaways who sought sanctuary in the wilds of the Great Dismal Swamp -- and creates a powerful testament to the right of every human to be free.
My thoughts
I think historical fiction has such an important place in the reading lives of our youth. We can teach them and tell them and show them about history. But the way to make it make sense to them is relate it to them. Historical fiction does this by having characters that are their age experiencing history and giving the reader a window into what it could have been like for them to live during a time period.
This book is an amazing window to what growing up as a slave could have been like. From what I think I know, the events in this book seemed authentic and raw. I enjoyed the character of Grace because we see her fight with wanting to do the right thing, yet needing to please her elders. She is a flawed character because she doesn't always do what is right, yet we understand her reasonings.
The author's note at the end of the book was interesting. Burg talks about The Great Dismal Swamp, a real location that can be found between Virginia and North Carolina. This marshy location gave refuge to slaves who were on the run. Within the deeply wooded marsh area, runaway slaves settled and learned to live on the land and face the perils of the wilderness, all which gave them freedom and was better than being enslaved.
This novel in verse has a rhythmic feeling to it and I think young readers will appreciate the voice but also there being just the right amount of words spoken in the book.
Look for this book on September 27th.