Every Wednesday I join Alyson Beecher from kidlitfrenzy and other
kidlit bloggers to share wonderful nonfiction picture books.
The intention of today's blog is to give educational professionals
new nonfiction reading material and ideas to use
with students to promote a love of reading nonfiction materials.
One of the things I love about doing Mock units is it encourages readers to look through a critical lens. What makes the book distinguished? What stands out about the book? What is special about the writer's craft? And in the case of nonfiction, what did it teach you?
As we get closer to the ALA Midwinter meetings and awards, I hope you are thinking about the Sibert Award. In early January, I'll be doing some posts sharing what I am doing for Mock Sibert. Because I help our school run Mock Geisel, Caldecott and Newbery units, I try to keep Mock Sibert an easy unit with an emphasis on exposing readers to rich nonfiction stand-outs.
Today, Alyson Beecher of kidlitfrenzy and I are sharing some nonfiction picture book standouts. These books would be a great starting point for you and your students. Get ahold of some or all of the books. Read and think - what stands out about them? Here are books that stood out to me in 2016:
Science Stand Outs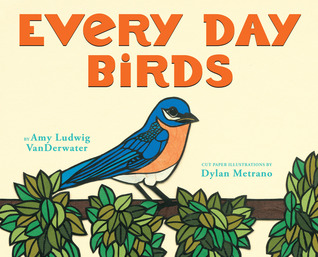 Every Da
y Birds
by Amy Ludwig VanDerwater
What stood out to me: I loved the organization of the book. It was very reader friendly. It's hard to believe you are learning information because you fall into the poetic verse about each bird. The information in the back gives further information about each bird.
Goodreads summary:
Young readers are fascinated with birds in their world.
Every Day Birds
helps children identify and learn about common birds. After reading
Every Day Birds
, families can look out their windows with curiosity--recognizing birds and nests and celebrating the beauty of these creatures!
Every Day Birds focuses on twenty North American birds, with a poem and descriptions written by Amy Ludwig VanDerwater and beautiful paper-cuttings by first-time picture book illustrator Dylan Metrano. Interesting facts about each bird are featured in the back of the book.
Giant Squid
by Candace Fleming
What stood out to me: Long after you close the book you'll be thinking about the elegant words, gorgeous illustrations and the mystery of this fascinating creature. Fleming's ability to draw in her readers with her vivid word choice goes to show how fascinating nonfiction really can be!
Goodreads summary:
The giant squid is one of the most elusive creatures in the world. As large as whales, they hide beyond reach deep within the sea, forcing scientists to piece together their story from those clues they leave behind.
An injured whale's ring-shaped scars indicate an encounter with a giant squid. A piece of beak broken off in the whale's belly; a flash of ink dispersed as a blinding defense to allow the squid to escape-- these fragments of proof were all we had . . . until a giant squid was finally filmed in its natural habitat only two years ago.
In this beautiful and clever nonfiction picture book about the giant squid, Candace Fleming and Eric Rohmann explore, both visually and poetically, this hidden creature's mysterious life.
Animals by the Numbers by Steve Jenkins
What stood out to me: I think on every page, I found something new to oooh and aaah about. I was always thinking "no way!" (ok, I may have even voiced that out loud as I read). The cross curricular connections between math and science were a definite standout and to see Jenkins use them with great purpose makes this book a true mentor text.
Goodreads summary:
How many species are there across the globe? How much do all of the insects in the world collectively weigh? How far can animals travel? Steve Jenkins answers these questions and many more with numbers, images, innovation, and authoritative science in his latest work of illustrated nonfiction
.
Jenkins layers his signature cut-paper illustrations alongside computer graphics and a text that is teeming with fresh, unexpected, and accurate zoological information ready for readers to easily devour. The level of scientific research paired with Jenkins' creativity and accessible infographics is unmatched and sure to wow fans old and new.
History Stand Outs
Freedom in Congo Square by Carole Boston Weatherford
What stood out to me: I love seeing books published about pieces of our history that might have gone unknown. In this book, we see how a small part of our country, specifically in a community in Louisiana, celebrated a piece of their African history, once a week, when slavery was at a peak. Told in verse, readers get a feel of the beauty of the music and dance that is celebrated in this book.
Goodreads summary:
This poetic, nonfiction story about a little-known piece of African American history captures a human's capacity to find hope and joy in difficult circumstances and demonstrates how New Orleans' Congo Square was truly freedom's heart.
Mondays, there were hogs to slop,

mules to train, and logs to chop.

Slavery was no ways fair.

Six more days to Congo Square.
As slaves relentlessly toiled in an unjust system in 19th century Louisiana, they all counted down the days until Sunday, when at least for half a day they were briefly able to congregate in Congo Square in New Orleans. Here they were free to set up an open market, sing, dance, and play music. They were free to forget their cares, their struggles, and their oppression. This story chronicles slaves' duties each day, from chopping logs on Mondays to baking bread on Wednesdays to plucking hens on Saturday, and builds to the freedom of Sundays and the special experience of an afternoon spent in Congo Square. This book will have a forward from Freddi Williams Evans (freddievans.com), a historian and Congo Square expert, as well as a glossary of terms with pronunciations and definitions.
Jazz Day: The Making of a Famous Photograph by Roxane Orgill
What stood out to me: another book with a great organization structure. While the book focuses on one event that took place over the course of a day, each page details a smaller part of the day, focusing on a person or smaller group of people that contributed to the day. I like that each page is not a big overview, but focuses on a moment, or maybe even an object, that contributed to the day.
Goodreads summary:
When
Esquire
magazine planned an issue to salute the American jazz scene in 1958, graphic designer Art Kane pitched a crazy idea: how about gathering a group of beloved jazz musicians and photographing them? He didn't own a good camera, didn't know if any musicians would show up, and insisted on setting up the shoot in front of a Harlem brownstone. Could he pull it off? In a captivating collection of poems, Roxane Orgill steps into the frame of
Harlem 1958,
bringing to life the musicians' mischief and quirks, their memorable style, and the vivacious atmosphere of a Harlem block full of kids on a hot summer's day. Francis Vallejo's vibrant, detailed, and wonderfully expressive paintings do loving justice to the larger-than-life quality of jazz musicians of the era. Includes bios of several of the fifty-seven musicians, an author's note, sources, a bibliography, and a foldout of Art Kane's famous photograph.
Invention/Makerspace Stand Outs
The Marvelous Thing That Came From a Spring by Gilbert Ford
What stood out to me: this is a fascinating story about the origins of a well known toy - the slinky! But what stood out is the way Ford crafts the story and enhances it with the artwork! I think this book lends itself to so many conversations - growth mindset, makerspace - it just really stood out to me as a wonderful nonfiction text!
Goodreads summary:
With magnificent dioramic illustrations, Gilbert Ford captures the joy, creativity, and determination behind the invention of an iconic, one-of-a-kind toy: the Slinky!
One day, a spring fell from the desk of Richard James, an engineer and a dreamer. Its coils took a walk…and so did Richard's imagination. He knew right away that he had stumbled onto something marvelous.
With the help of his wife, Betty, Richard took this ordinary spring and turned it into a plaything. But it wasn't just any old trinket—it was a Slinky, and it would become one of the most popular toys in American history.
Whoosh!: Lonnie Johnson's Super-Soaking Stream of Inventions by Chris Barton
What stood out to me: another book that lends itself to growth mindset and makerspace conversations, I love how Barton writes about Johnson and how his mind is always thinking, always changing, always questioning. Talk about using a great nonfiction book as a mentor text for themes!
Goodreads summary:
A cool idea with a big splash.
You know the Super Soaker. It's one of top twenty toys of all time. And it was invented entirely by accident. Trying to create a new cooling system for refrigerators and air conditioners, impressive inventor Lonnie Johnson instead created the mechanics for the iconic toy.
A love for rockets, robots, inventions, and a mind for creativity began early in Lonnie Johnson's life. Growing up in a house full of brothers and sisters, persistence and a passion for problem solving became the cornerstone for a career as an engineer and his work with NASA. But it is his invention of the Super Soaker water gun that has made his most memorable splash with kids and adults.
Biography Stand Outs
The next four books are my choices for biographies that really stood out this year. The authors of these biographies wrote engaging stories about the lives of these fascinating people. Whether you've heard of them or they are unknown, each of the people featured in these biographies will be unforgettable in your mind after you read their stories. Often because of their character or deeds, but also because of the way the information is presented by the author. Enjoy these stories!
Swimming With Sharks: The Daring Discoveries of Eugenie Clark by Heather Lang
Goodreads summary:
Before Eugenie Clark's groundbreaking research, most people thought sharks were vicious, blood-thirsty killers. From the first time she saw a shark in an aquarium, Japanese-American Eugenie was enthralled. Instead of frightening and ferocious eating machines, she saw sleek, graceful fish gliding through the water. After she became a scientist an unexpected career path for a woman in the 1940s she began taking research dives and training sharks, earning her the nickname "The Shark Lady."
Ada's Violin: The Story of the Recycled Orchestra of Paraguay by Susan Hood
Goodreads summary:
Ada Ríos grew up in Cateura, a small town in Paraguay built on a landfill. She dreamed of playing the violin, but with little money for anything but the bare essentials, it was never an option...until a music teacher named Favio Chávez arrived. He wanted to give the children of Cateura something special, so he made them instruments out of materials found in the trash. It was a crazy idea, but one that would leave Ada—and her town—forever changed. Now, the Recycled Orchestra plays venues around the world, spreading their message of hope and innovation.
I Dissent: Ruth Bader Ginsburg Makes Her Mark by Debbie Levy
Goodreads summary:
Get to know celebrated Supreme Court justice Ruth Bader Ginsburg—in the first picture book about her life—as she proves that disagreeing does not make you disagreeable!
Supreme Court justice Ruth Bader Ginsburg has spent a lifetime disagreeing: disagreeing with inequality, arguing against unfair treatment, and standing up for what's right for people everywhere. This biographical picture book about the Notorious RBG, tells the justic
e's story through the lens of her many famous dissents, or disagreements.
Radiant Child: The Story of Young Artist Jean-Michel Basquiat by Javaka Steptoe
Goodreads summary:
Jean-Michael Basquiat and his unique, collage-style paintings rocked to fame in the 1980s as a cultural phenomenon unlike anything the art work had ever seen. But before that, he was a little boy who saw art everywhere: in poetry books and museums, in games and in the words that we speak, and in the pulsing energy of New York City. Now, award-winning illustrator Javaka Steptoe's vivid text and bold artwork echoing Basquiat's own introduce young readers to the powerful message and art doesn't always have to be neat or clean--and definitely not inside the lines--to be beautiful.
Okay, I know that was more than 10 but numbers have never been my thing ;)
Over the next month, I'll be sharing more book nonfiction that I'll be using in my Mock Sibert, as well as some favorites from the year. What books are you looking to find for a Mock Sibert? What books do you want to make sure and read before the awards?
Want an overview of the Sibert Award and see where the ideas for this post came from? Check out our posts from last week:
Mrs. Knott's Book Nook
Kidlitfrenzy