Every Wednesday I join Alyson Beecher from kidlitfrenzy and other
kidlit bloggers to share wonderful nonfiction picture books.
The intention of today's blog is to give educational professionals
new nonfiction reading material and ideas to use
with students to promote a love of reading nonfiction materials.
Reminder, here's the Sibert criteria and what the committee will be considering.
Excellent, engaging, and distinctive use of language.

Excellent, engaging, and distinctive visual presentation.

Appropriate organization and documentation.

Clear, accurate, and stimulating presentation of facts, concepts, and ideas.

Appropriate style of presentation for subject and for intended audience.

Supportive features (index, table of contents, maps, timelines, etc).

Respectful and of interest to children.
Some longer nonfiction books I think that may catch the attention of the Sibert committee: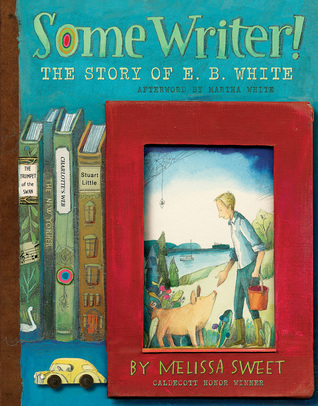 Some Writer! by Melissa Sweet
This shouldn't come to a surprise to anyone, this book has landed on many lists: Mock Caldecott, Mock Newbery and it's already won the 2017 NCTE Orbus Pictus Award.
Dive! World War II Stories of Sailors and Submarines in the Pacific by Deborah Hopkinson
The stories in this book captivated me and had me caught up in the narrative of these brave military heroes. I think this book will appeal to a wide range of readers - I've already passed the book on to my dad!
Here are my earlier thoughts on Dive! and how you might use it with your class.
Presenting Buffalo Bill: The Man Who Invented the Wild West by Candace Fleming
Candace has an amazing way with a longer nonfiction format. She captivates you with her storytelling and immerses you in the story of these historical figures.
Click here for my previous post and teaching ideas.
Did you check out Melissa Stewart's post last week about the Sibert Smackdown? I love her ideas for using a Mock Sibert in the classroom. Melissa also posted a link to Anderson's Bookshop Mock Sibert list. Here are some of the longer nonfiction on this list you may want to check out.
America's Tea Parties: Not One But Four! by Marissa Moss
We Will Not Be Silent: The White Rose Student Resistant Movement That Defied Adolf Hitler by Russell Freedman
In the Shadow of Liberty: The Hidden History of Slavery, Four Presidents, and Five Black Lives by Kenneth C. Davis
Uprooted: The Japanese American Experience During World War II by Albert Marrin
You Can Fly: The Tuskegee Airmen by Carole Weatherford
Be sure to see what longer nonfiction Alyson has on her list here.
Would love to hear more about how you're using longer nonfiction with your students!