(photo credit to Sarah Brannan)
Every Wednesday I join Alyson Beecher from kidlitfrenzy and other
kidlit bloggers to share wonderful nonfiction picture books.
The intention of today's blog post is to give professionals that work in the
education field
new nonfiction reading material and ideas to use
with students to promote a love of reading nonfiction materials.
Before the Winter Break, I posted several times about Mock Sibert. Here they are if you would like to take a look at them:
Coming back from break, I started doing a modified version of Mock Sibert/Sibert Smackdown with my 3rd grade intervention students. I would love to see this done on a bigger scale at our school, but, our teachers are all doing Mock Caldecott and Mock Geisel and are consumed enough with that.
I was getting ready to start a nonfiction unit with my students and I thought this would be a good way to begin.
I picked 12 books to read aloud to my students. I used books that came from the lists that Alyson Beecher and I shared before break (here is Aly's list). There always seems to be more notable picture book biographies than other nonfiction material so I spend time trying to make sure I have a picture book biography matched up with a nonfiction picture book that is about a social issue or science or social studies (not always easy).
I print up a Sibert Smackdown sheet from Melissa Stewart (found here). I modify just a few things to meet the needs of my students.
Here are the goals I have for this unit:
because I am using this at the beginning of the nonfiction unit, I want students to be exposed to listening to nonfiction in a read aloud format. Rarely is

nonfiction

used as a read aloud. What great exposure this is for them.

I constantly refer to the Sibert criteria that we are using to critique the books. They are listed on the side of the Smackdown sheet. I have found when students critique a book, they really just want to say whether it was a good "story" or not - or if it was "interesting". To get them to think about the many things an author does to improve the reading experience is hard. By doing this over and over, students will not only become more attuned to thinking about this, they will also use this in their own independent reading.
Right now, I am reading one book each day, and after the students have listened to 2 books, we go back through the criteria and rate the books. Because I also want them practicing picking out details, they also have to write a couple of facts that stuck out to them about one of the books.
We're keeping each of the Smackdown sheets they fill out until we've completed all of the books. At that point, each student will pick a book to champion. Using their critique sheet, they will write longer about why it should be a book the Sibert committee should award the medal to at the YMAs. It just so happens this will end around the time of the awards and we'll culminate with watching that part of the award show together.
I think this is a great way to include nonfiction picture books into your read aloud time. I'm finding it to be a perfect way to kick off a nonfiction unit.
Here are the books we are using in this unit: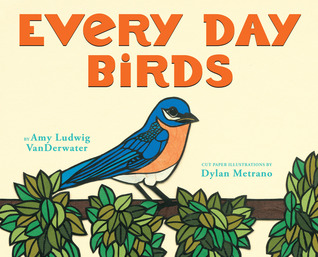 vs.
vs.
vs.
vs.
vs.
vs.
Every
Day Birds
by Amy Ludwig VanDerwater vs.
Hillary Rodham Clinton
by Michelle Markel
Coyote Moon by Maria Gianferarri vs. Swimming With Sharks by Heather Lang
Giant Squid by Candace Fleming vs. The Marvelous Thing That Came From a Spring by Gilbert Ford.
The Great Leopard Rescue by Sandra Markle vs. Whoosh! by Chris Barton
Squirrels Leap, Squirrels Sleep by April Pulley Sayre vs. Mountain Chef by Annette Pimentel
Miss Mary Reporting by Sue Macy vs. Animals by the Numbers by Steve Jenkins
Are you doing a Mock Sibert/Sibert Smackdown? What books are on your list?