If you follow Laurel Snyder, you know that this work is absolutely a work from her heart. Just read the Nerdy post.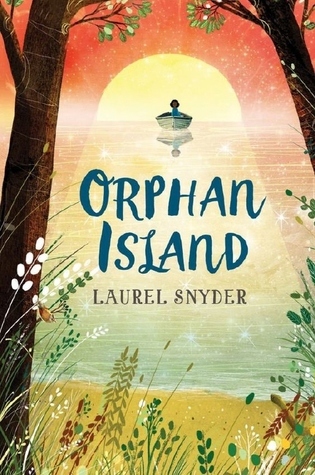 Orphan Island
published by Walden Pond Press
Goodreads summary:
From acclaimed author Laurel Snyder comes a deep, compelling, heartbreaking, and completely one-of-a-kind novel about nine children who live on a mysterious island.
On the island, everything is perfect. The sun rises in a sky filled with dancing shapes; the wind, water, and trees shelter and protect those who live there; when the nine children go to sleep in their cabins, it is with full stomachs and joy in their hearts. And only one thing ever changes: on that day, each year, when a boat appears from the mist upon the ocean carrying one young child to join them—and taking the eldest one away, never to be seen again.
Today's Changing is no different. The boat arrives, taking away Jinny's best friend, Deen, replacing him with a new little girl named Ess, and leaving Jinny as the new Elder. Jinny knows her responsibility now—to teach Ess everything she needs to know about the island, to keep things as they've always been. But will she be ready for the inevitable day when the boat will come back—and take her away forever from the only home she's known?
My quick thoughts:
I absolutely loved this book. I loved Jinny's journey and her character change. There were times when you didn't really like her - but understood why she was acting a certain way. I always think that is a sign of great writing - when an author can get you to still understand a character, even when you don't necessarily like them.
I think the themes in this book are going to be fascinating to discuss:
making difficult choices

the complexities of growing up

responsibilities

who makes up a family? A community?

the impact our choices make upon others
After reading Laurel's newest Nerdy post, it made me add to this list of themes! I'm thinking about the questions and no-answers tweens get as they enter the path towards "growing up". Or maybe about understanding who you are and how you get there.
I can see this book landing on Mock Newbery lists in the fall. I'm interested in seeing how middle grade readers respond to this book. I wonder if this is a book they will fall into like I did, or if it's one they will appreciate and love with peer discussions.
I hope this book found its way to you on May 30th. The finished copy is gorgeous, and I loved being able to finally hold it! I'm going in for a reread!