The heart of a story is what gets to me. Sometimes it's the heart of the characters. Sometimes it's what happens in the book that carries the heart of the story. This one has both - lots of action throughout the book - but it's the need to belong, to a family and to friends, that made me love this story.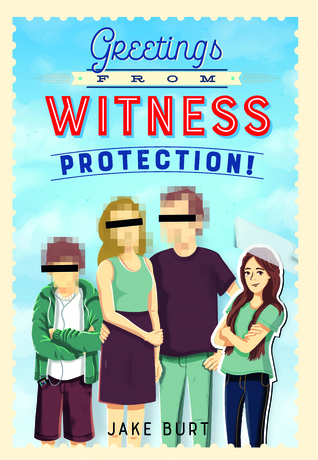 Greetings From Witness Protection!
published by Feiwel & Friends
We meet Nicki and quickly put a few basics together: she's a foster child, her dad is alive but not in communication with Nicki, she's had some tough things that have happened in her life, and there's something about her hands. Right away someone is at her foster home and it looks like Nicki is going to be placed with a new family. And that's when things start moving and they don't slow down!
Nicki is placed with a family who is going into the witness protection program. The mom has just testified against her brother who is leader of a well known mob family and now her immediate family is in danger. By adopting Nicki into their family, it makes them not stand out as a family of three, since they will now be a family of four. Oh, and we also find out about now that Nicki is a very very good pickpocket.
Nicki meets her new family - Harriet, Jonathan and Jackson - and picks a new name for herself, Charlotte. Before she can even find out their favorite food, she's in the car with Harriet and off to their new home in North Carolina. Right away, Charlotte learns all about southern hospitality when their neighbor and daughter comes over to snoop, I mean introduce themselves! Luckily, Charlotte quickly becomes friends with the daughter and starts to learn what having a friend is all about.
Sibling rivalry is explored, and even though Charlotte just gained her brother, it's like they've been siblings all of their lives. The fights are perfect, with each one knowing exactly what button to press to instigate matters!
But Charlotte and her family can never fully relax and just be themselves. They have to always remember their story and stay true to their new characters. But how hard is it to lose who you are? And is it worth doing that in order to gain what you've always wanted - a family... a sense of belonging... and a real friend.
I never had a chance to catch my breath with this book. Just when you get ready to relax, something else happens to a character that made it impossible to put the book down! I quickly fell into the story and rooted for Charlotte in her family. But my heart also went out to her because I think everyone recognizes that need to belong. No matter what your family situation is, you'll understand Charlotte's plight of wanting and needing a family of her own.
It was difficult to finish this book because I wasn't ready to let Charlotte go. I'd love to see her in more stories (hint, hint, Jake Burt.....)
I hope you can introduce Charlotte to your readers soon. I imagine she'll make an impression on a lot of readers!