Every Wednesday I join Alyson Beecher from kidlitfrenzy and other
kidlit bloggers to share wonderful nonfiction picture books.
The intention of today's blog post is to give professionals that work in the
education field
new nonfiction reading material and ideas to use
with students to promote a love of reading nonfiction materials.
I have had such a large number of nonfiction picture books in my piles lately that I decided to make October into the "What's in My Pile? series". Today I'm spotlighting the picture book biographies that were in my pile during the month of October!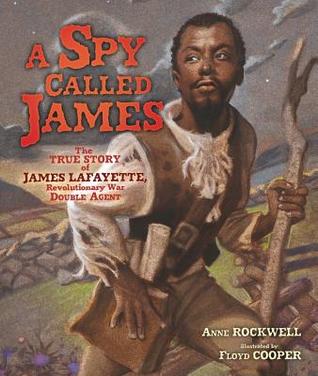 A Spy Called James: The True Story of James Lafayette, Revolutionary War Double Agent
written by Anne Rockwell
illustrated by Floyd Cooper
Interesting story about James, a slave, who was able to be released by his owner in order to become a spy for the Americans during the Revolutionary War. James had a big hand in helping the Americans win the war at Yorktown because of the information he was able to give General Lafayette about the British plans.
Mama Africa! How Miriam Makeba Spread Hope With Her Song
written by Kathryn Erskine
illustrated by Charly Palmer
This book should not be missed, especially by middle school readers. An excellent look at the apartheid movement in South Africa, this book really helped me understand the fight that occurred. I've always known some history, but this opened my eyes more to what was happening. A really fascinating look at Miriam Makeba and how she used her gift of music to raise awareness and spread word all over the world.
Falling water: The Building of Frank Lloyd Wright's Masterpiece
written by Marc Harshman and Anna Egan Smucker
illustrated by LeUyen Pham
I really did not have much information about this book and after reading it, I really do want to know more! Foremost, what a fascinating piece of information about Frank Lloyd Wright. I have not read much about him, but his architecture genius is well known. I like that this book focused on this one piece of work, instead of on a grander scale.
I'm also a big fan of LeUyen Pham's work. While there were parts that I definitely recognized as pure Pham, it also was a bit of a departure from what I usually see. Such a talented lady!
A Boy, A Mouse, and a Spider: The Story of E.B. White
written by Barbara Herkert
illustrated by Lauren Castillo
This is such a gorgeous book! The text is put together with perfection - every word is precision! Illustrations are stunning. Every book Lauren illustrates just makes me in even more awe of her talent.
Such an accessible biography of E.B. White. I can see this book being used for many mentor text reasons. The writing of course, but I think teachers are going to find uses of the reading of this book to introduce E.B. White's texts, or maybe even a ladder for Melissa Sweet's biography, Some Writer!.
I think you'll find this book on my Mock Caldecott and Mock Sibert lists!
Lots of new biographies! I hope you find more for your TBR lists!