For our students and our own children, we want their lives to be easy and perfect. We want heartbreak to stay away and all problems to be solved easily.
But life doesn't always work that way. And even when it does, it doesn't stop some children thinking about those big issues. Issues, that while they may seem foreign, still weigh on their minds.
I was one of those readers who liked reading about bigger issues. I didn't have to worry about them, but the unknown was a thought in my mind. I read voraciously as a child, and sometimes I read light and funny books. But sometimes I wanted a book that explored something heavy. Anyone else remember Lois Lowry's A Summer to Die? And there were others too.
These books are important for students. Some kids look for them to ease what they are feeling. Some kids look for them because they have questions.
There are a few books that are being released that have young characters searching for answers to big questions. I hope you find a place for them in your library.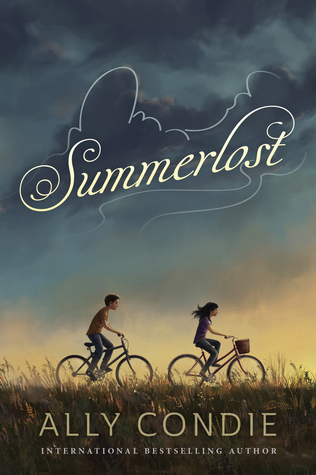 Summerlost by Ally Condie
Goodreads summary:
It's the first real summer since the devastating accident that killed Cedar's father and younger brother, Ben. But now Cedar and what's left of her family are returning to the town of Iron Creek for the summer. They're just settling into their new house when a boy named Leo, dressed in costume, rides by on his bike. Intrigued, Cedar follows him to the renowned Summerlost theatre festival. Soon, she not only has a new friend in Leo and a job working concessions at the festival, she finds herself surrounded by mystery. The mystery of the tragic, too-short life of the Hollywood actress who haunts the halls of Summerlost. And the mystery of the strange gifts that keep appearing for Cedar.
Infused with emotion and rich with understanding, Summerlost is the touching middle grade debut from Ally Condie, the international bestselling author of the Matched series, that highlights the strength of family and personal resilience in the face of tragedy.
Raymie Nightingale by Kate DiCamillo
Goodreads summary:
Raymie Clarke has come to realize that everything, absolutely everything, depends on her. And she has a plan. If Raymie can win the Little Miss Central Florida Tire competition, then her father, who left town two days ago with a dental hygienist, will see Raymie's picture in the paper and (maybe) come home. To win, not only does Raymie have to do good deeds and learn how to twirl a baton; she also has to contend with the wispy, frequently fainting Louisiana Elefante, who has a show-business background, and the fiery, stubborn Beverly Tapinski, who's determined to sabotage the contest. But as the competition approaches, loneliness, loss, and unanswerable questions draw the three girls into an unlikely friendship — and challenge each of them to come to the rescue in unexpected ways.
Every Single Second by Tricia Springstubb
Goodreads summary:
A single second. That's all it takes to turn a world upside down.
Twelve-year-old Nella Sabatini's life is changing too soon, too fast. Her best friend, Clem, doesn't seem concerned; she's busy figuring out the best way to spend the "leap second"—an extra second about to be added to the world's official clock. The only person who might understand how Nella feels is Angela, but the two of them have gone from being "secret sisters" to not talking at all.
Then Angela's idolized big brother makes a terrible, fatal mistake, one that tears apart their tight-knit community and plunges his family into a whirlwind of harsh publicity and judgment. In the midst of this controversy, Nella is faced with a series of startling revelations about her parents, friends, and neighborhood. As Angela's situation becomes dangerous, Nella must choose whether to stand by or stand up. Her heart tries to tell her what to do, but can you always trust your heart? The clock ticks down, and in that extra second, past and present merge—the future will be up to her.
Tricia Springstubb's extraordinary novel is about the shifting bonds of friendship and the unconditional love of family, the impact of class and racial divides on a neighborhood and a city, and a girl awakening to awareness of a world bigger and more complex than she'd ever imagined.